FranchiseHelp Interviews Concierge Home Services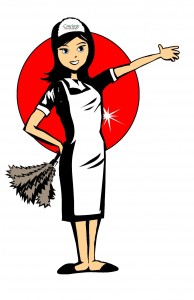 FranchiseHelp speaks with Rebecca Page, founder of Concierge Home Services. This Canadian based home services franchise specializes in household management such as home cleaning, window washing, duct cleaning, carpet cleaning, pet sitting, or home checks.In this interview, Page reveals the benefits of owning a Concierge Home Services franchise, the direction that the company is moving in,and why some professionals have quit their jobs to get on board with this up-and-coming franchise.

What advantages do people have when operating under the Concierge Home Services name when they could simply start their own household management company?
The Concierge Home Services franchise has a proven system with all the kinks worked out. 10 years ofrunning this business has fine-tuned every operational aspect and clarifiedour ideal client and staff. We've seen would-be competitors come and go – by joining oursystem you get our experience and our support.
Why do most people decide to quit their job and start a business with Concierge Home Services?
Our franchisees love the work-life balance they get with our company. Our business operates weekdays and has lots of flexibility, unlike many other franchise opportunities which require evenings and weekends. Women really love using their detailed organization skills to be the boss and build a business which can work around their family.
How much time does an average franchisee put in to the business per week?
Including administrative tasks, I would say 35 hours a week.
When starting their own business from scratch most people expect not to draw a salary in the first year. What can most people expect to take home the first year as a franchisee?
That really depends on how much effort and time they put into connecting totheir community. We give lots of support to drive homeowners to the website,but local relationships matter also. A profit of $18K the first year is notunreasonable – a decent return on an initial franchise fee of $17K.
What do franchisees get for the $17k start-up franchise cost?
As with most franchises, the initial franchise fee covers initial training costs, ongoing support, and a 5 year term to license the trademark and operating system of the company. We also include the cost of setting up the new location on our website and doing all the SEO to drive local traffic to the new franchisee.
You started your business with a toddler at home. Can others expect to achieve the same success while juggling such a busy schedule?
We prefer that our franchisees have school age children, or full time childcare during school hours when they first start their business. While weprovide lots of flexibility to balance work and family, a new business needsthe franchisee to have their attention focused on networking, customerservice, hiring staff, and quality checks.
Do most franchisees actually do the labor that comes along with the franchise?
For the first couple of months, we recommend that the franchisees do most of the labour. This is the sweat equity that any new business requires, andmakes them better trainers and bosses. Once clientele builds, they hirestaff so that they can shift to further growing the business and maintaining relationships with their clients. Our franchises are primarily doing management and customer service, not labour.
The Concierge Home Services franchise is based in Canada. Any plans to franchise in the United States?
We have trademarked in the US and are open to expansion. Our concept appealsto busy homeowners who want solid customer service and a single source for avariety of services – there are lots of communities in the States withclients like that.
Rebecca Page CEO, CHS Licensing Ltd., Total Household Management.
Choosing a Service Franchise or a Product Franchise
Most of the franchises offering Product oriented goods have very stringent rules. Since their brand is associated with a tangible good they must guarantee the desired quality from the consumer's expectation. Franchisees must purchase the goods from a designated supplier and must keep items in their inventory as suggested by the franchisor. This can be company regulated policies or simply to help the franchisor launch some of their new products.
Before Buying a Franchise Identify Your TRUE Investment
Your approach as a potential franchise buyer is to identify the real investment dollars you'll need to get the franchise to profitability. The initial source of this information is Item 7 in the FDD. Item 7 is a schedule that details the estimated investment in the franchise. This schedule includes the cost of various items, including: the initial franchise fee, training related expenses, rent, insurance, professional fees for legal and accounting services, supplies, equipment, licenses and permits and additional working capital. Depending upon the specific franchise, there may be added categories. When reviewing the Item 7 schedule it's important to know that franchisors are not required to list every type of fee or expense that might be part of the investment in the franchise but rather the likely investment needed to start the franchise. As you work to establish your investment number keep in mind the words "estimated" and "typical." Item 7 is a guide, and as such, you should use this information accordingly.
Look Out, Overhead: The Advantages of Buying an Online Franchise
Another advantage of an online franchise is that the 'online shop' is effectively open all day; revenue can be generated 24 hours a day, seven days a week.Also, an internet-based business is accessible by anyone, anywhere, reaching customers around the globe. Unlike conventional franchises, online businesses aren't restricted by physical location or traditional hours of operation.