Franchise Hope: How Market Leader Home Franchise Concepts Continues to Innovate With Owners & Families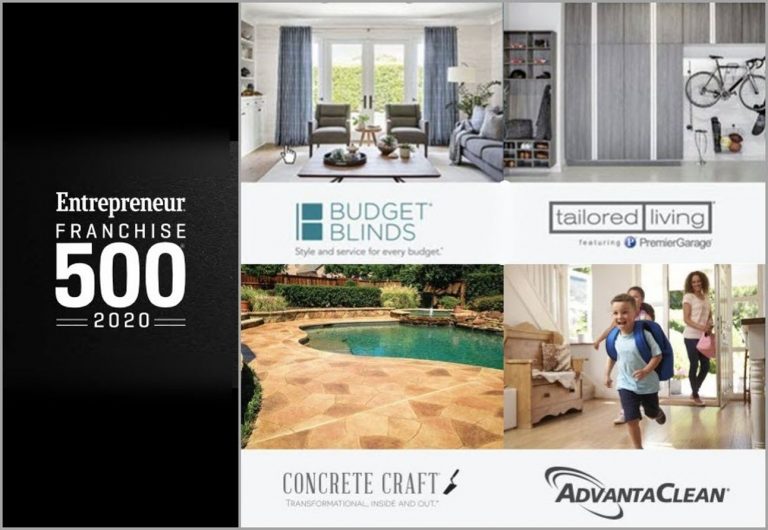 Have you ever watched an episode of one of those extreme makeover reality shows where designers race the clock to completely renovate a house for a deserving family?
Newsflash. It's not just a show, it's a career.
For three decades, Home Franchise Concepts has been helping people realize the dream of owning a low-cost, home-based franchise in the home services industry. HFC's four brands including Budget Blinds, Tailored Living®, Concrete Craft® and AdvantaClean® are consistently rated at the top of their categories. Entrepreneurs from all walks of life have built thriving franchise businesses realizing their personal and professional goals, while also helping families fall back in love with their own homes.
In this piece for our ongoing series on franchise hope, we sat down with Jonathan Thiessen, Chief Development Officer at Home Franchise Concepts. You may recognize him from an actual episode of one of those reality shows. (We'll get to that later in the article!) Jonathan gave us insight that franchisors and franchisees alike can take to heart, take to the streets and take to the bank during these turbulent economic times.
We read you've recently pivoted to provide virtual consultations during this time.

Where did the idea for that innovation originate?
"The idea came out of necessity. With millions of people sitting in their homes, people are looking around their houses and discovering projects to get reorganized," Jonathan said.
The need for prioritizing these projects is important to homeowners, he told us, but the challenge is, people don't want anyone, much less franchisees, inside their homes. HFC wanted to develop a way to teach franchisees new opportunities to interact with homeowners.
Their virtual consultations now offer a way for homeowners to walk through a potential project, giving a tour of their space via their digital device. Franchisees are helping people learn how to take measurements properly, going to the customer's house to leave fabric samples, color swatches, and product samples on their doorsteps, then picking the materials up later. This allows them to keep a safe distance, while also providing value and moving people's home projects forward. Quotes are coming together faster so customers can get started on their new window treatments, garage or closet organization.
When our nation comes out of this downtime, Thiessen added, our franchisees are going to be slammed. Think about all the families who are maximizing their spaces. Perhaps turning the garage into a gym, or building a home office in a spare bedroom, all these projects are right in our wheelhouse across all of our brands. Tailored Living is in the process right now of developing a whole new line of module home desks. They're perfect for homeowners who can't afford or don't have the space for an entire new room. Now customers can pick between options that are the best for them.
With the stay at home order in place, people have more time to improve their homes, so

has that been good for business?
Concrete Craft, for example, has had record months. People are focused on changing their space, and if they're going to be home all summer, making improvements to patios, pools, and so on. And as a brand, HFC knows the business is going to be there, so they want to be a part of it. New franchisees are going to have a lot of opportunities to do business over the next year, as a result of the economic shifts.
Home Franchise Concepts knows that the biggest challenge will be timing. Coming out of this recent quarantine and financial downturn, they're doubling down on training so franchisees can capture the wave of customers they anticipate. "You don't want to get on the wave when it's cresting," Thiessen said, "you have to prepare to be ahead of time so you can move quickly when the time is right."
Many potential franchisees are excited to jump into home services businesses right now, Jonathan added, so that they don't continue to find themselves in a career where they don't control their destiny. Unlike our country's previous recession after the financial collapse, the current situation hits a different note. "Last time, nobody was sure if or when the economy was coming back. We couldn't see the bottom. While this year it's been devastating for many, it doesn't feel like it's an 'if' just a 'when' we're going to be surging ahead again."
As a result, potential business owners are asking themselves the big questions. Do I want to control my own destiny? Do I want to work for myself? What are the opportunities coming out of this? Home Franchise Concepts is well positioned to help entrepreneurs take the next step on their career journey.
"Our Franchise Development team has a large pipeline of very qualified candidates taking the opportunity to consider their career options. Some people don't know if they're going back to work, still have a job, are getting laid off or being furloughed. This downtime has given them the chance to do research for their next professional chapter and seriously evaluate the opportunities in front of them," Jonathan said.
Home Franchise Concepts was bought by JM Family Enterprises, Inc in 2019. How

has that transition been internally?
"To be able to lean on their expertise, personnel, leadership, and access to capital has been extraordinary," Thiessen said. For example, their Executive Team has a Chief Medical Officer who speaks to associates and franchisees on a weekly basis to provide updates on the pandemic and wellness advice. They've provided franchisees resources to help navigate government relief programs so that they can continue to keep their associates on board and their businesses running.
As for the relationship between franchisors and franchisees, the new leadership has made it possible to soften or delay royalty payments, focus on being healthy in their own markets, and in general doing right by customers and associates. Now they can be franchisee focused, rather than solely executing on bottom-line improvements. With the increase of digital training, combining virtual sessions, videos, tests and tutorials produced at their in-house television studio, franchisees are getting every resource imaginable to stay strong and get their businesses back to normal over the forthcoming months.
Caring is a core value of HFC, and now more than ever, both owners and customers need

that. How have you seen your franchisees execute on that value?
"Internally, we're doing everything we can to focus on the health of our people and the health of their businesses." Jonathan told us. And as for externally, Home Franchise Concepts is busy giving back to first responders, raising funding for food banks, promoting other small businesses in their local markets and providing incentives.
Additionally, Budget Blinds has announced a program that allows its franchisees to nominate a frontline worker who is deserving of one of eight free room remodels. Now, if this sounds like one of those extreme makeover television shows, you're right.
Recently, Home Franchise Concepts and its family of brands partnered with HGTV's Extreme Makeover: Home Edition to completely renovate the homes of two very deserving families in California.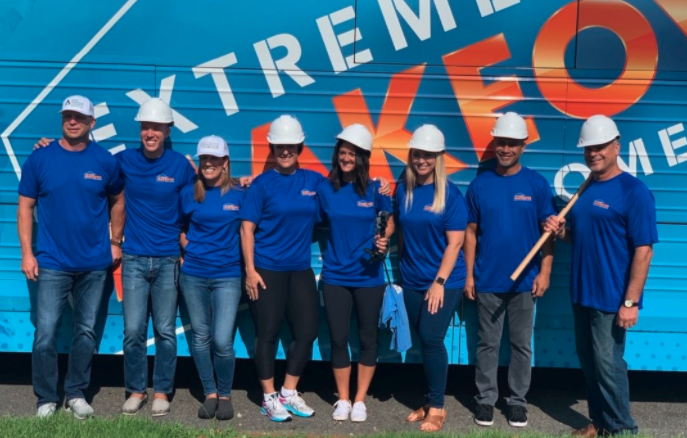 Their team was proud to contribute what they do best in-home improvement and renovation to reach the climactic "Move. That. Bus!" moment for each family.
Let's geek out for a moment. The focus on the automation of window coverings

has been gaining a lot of momentum in recent years. Why do you think that is,

and how has that impacted the level of interest for potential franchise owners?
"It's the wave of the future," Theissen said. "Everyone wants to control everything with their phones now, and with baby boomers aging, getting up and down to close window coverings needs to be more convenient. But if done with a remote or phone, or even using Alexa or a virtual assistant, it can all be done at the push of a button or the sound of your voice." Tailored Living even offers motorized overhead garage storage systems that lower the platform with the touch of a button to easily load or unload the storage rack and return it to the ceiling where it is out of the way.
Eliminating corded window coverings also is important for child safety and Home Franchise Concepts is using motorization as a way to educate and reassure families that the innovative technologies in this industry don't have to be risky or expensive. Even customers who don't want a complete renovation can quickly retrofit existing window coverings with motors instead of having to replace their blinds altogether. Jonathan smiled as he talked about the system at his own house. "The automation not only allows me to open and close the blinds on command, it also is set to automatically raise and lower them during the hours the sun hits them so that my home can be more energy efficient."
HFC has become a recognized leader in franchisee franchisor relationships. Can

you talk about your approach to that crucial relationship?
"Our team values are trust, transparency, collaboration, commitment and caring. And as such, there aren't a lot of surprises when franchisors and franchisees are working together. Now, we do have 1,700 hundred franchise territories, so unfortunately we can't get everyone's opinion on every issue. But our sense of openness only deepens each year, and team members feel it every step of the way."
BusinessWire, in their report about JM Family Enterprises acquisition of Home Franchise Concepts, echoed this sentiment. They practice a customer centric philosophy that positions business owners to be successful through proven business models, expert training, and the latest products, technology, marketing and other resources.
It's no surprise that HFC has become a franchise leader in the multi-billion dollar home improvement space. Extreme home makeovers may be a television program for some, but for their franchisees, it's not a reality show, it's just reality.
Scott Ginsberg is Head of Content at Metric Collective, the parent company of FranchiseHelp. He was once asked to be a contestant on the reality show Tattoo Nightmares, but reluctantly declined.
Where Is The Best Location To Open Your Franchise?
One critical factor to consider when you are thinking about opening a franchise is whether your location is suited for a franchise and which franchise suits your area the best. One thing that makes this consideration slightly easier is the notion of franchise territories. Most, but not all, franchises in the US are set up so that they grant exclusive territorial franchise rights to their franchisees to help prevent the issue of geographic competition.
The Best Automotive Franchise Opportunities in the USA
The automotive industry has long been an attractive category for aspiring franchise owners. There are nearly as many different types of automotive franchises as there are services and offerings for cars, such as maintenance, repairs, or car rentals. And regardless of the economy or gas prices,the number of automotive franchises is expected to grow due to rising car ownership in developing countries, new car sales, and maintenance and repair of older cars that continue to roam the world's expanding roadways.