Franchisee Focus: How Jessica Kurz Survived Cancer and Now Thrives With Perspire Sauna Studio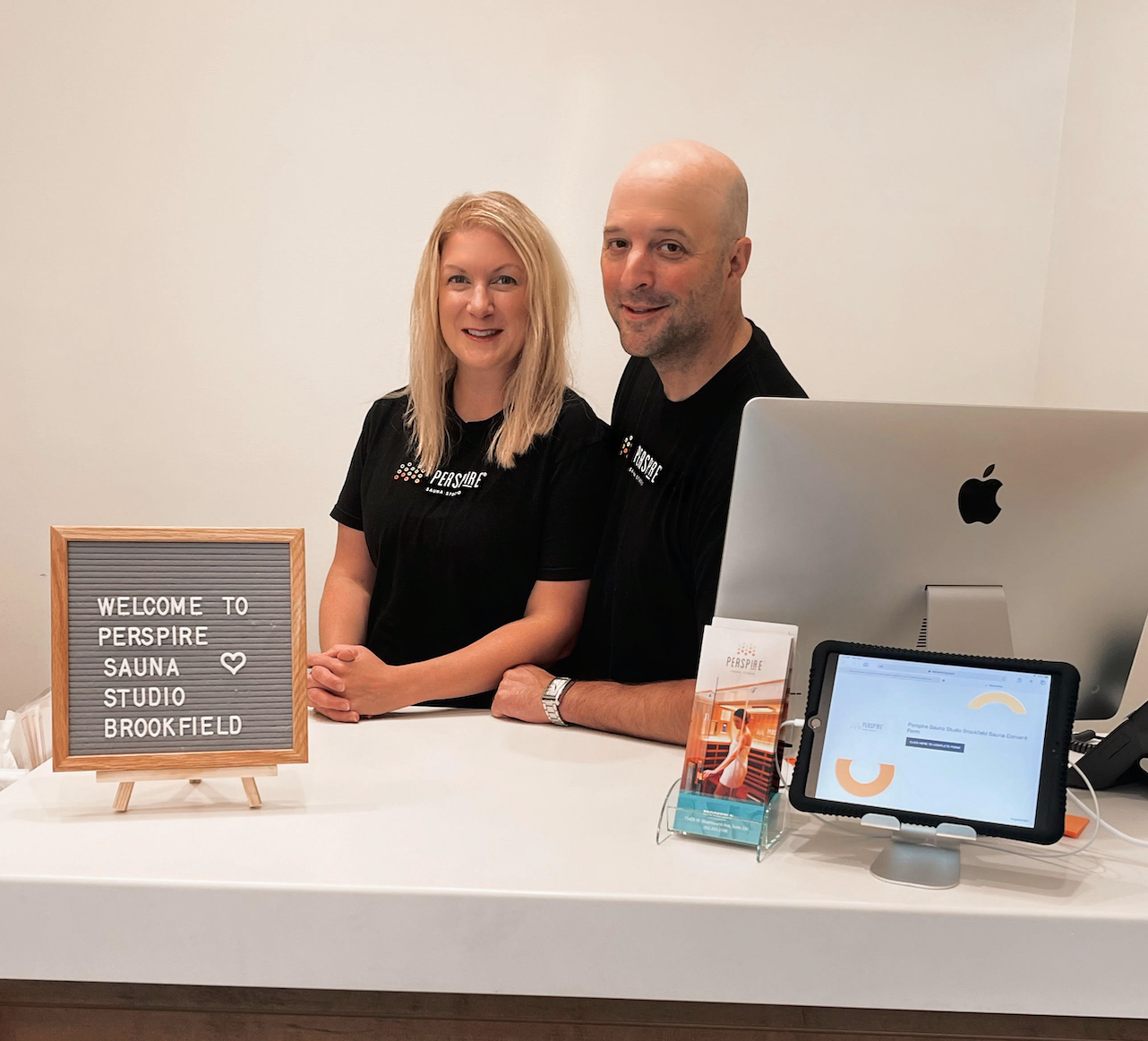 A few months ago we shared an inspiring story from a Perspire Sauna Studio franchisee, Maria Kirgan.
She told us about her journey not only as a small business owner, but also as a cancer survivor, and how infrared treatment has been a crucial part of that.
Turns out, she wasn't alone in her journey.
We got in touch with another breast cancer survivor and Perspire Sauna Studio Brookfield franchisee, Jessica Kurz, to learn that her story had similar themes. Once again, we're honored to share this franchisee focus to inspire your personal and professional journey:
Where does your health journey begin?
At age 35, I was diagnosed with breast cancer. On my daughter's second birthday. Talk about a life changing illness. Now, we have great treatment centers where I live, with an awesome team helping me every step of the way. And after several surgeries and sixteen rounds of chemo, there was no evidence of disease (NED for short).
But I felt so alone. That result was not good enough for me. The absence of illness doesn't necessarily equate to wellness. Just because you can't see the disease doesn't mean you won't still feel bad. And so, I continued the journey seeking out more healing in a mindful way. Trying to achieve wellness again.
Where did that realization take you?
I'm a licensed therapist, so in my profession, if you have questions, you go to the literature. And I began learning all about infrared healing and other supportive therapies. Many people say you either pick traditional medical options or seek alternatives, but I believe a whole person can integrate aspects of both to achieve wellness.
I learned about everything, like the benefits in infrared and using it to manage the side effects of chemotherapy and joint pain. The first step was going to a retailer and buying an introductory level sauna for our basement. This solution was good enough to start, as the heat helped inflammation. Joint pain and night sweats diminished. But it was only the beginning.
What happened next?
Another friend of mine also had a cancer diagnosis, and was researching supportive treatments for herself. She told me about a franchise in Atlanta called Perspire Sauna Studio. I thought, wow, what a cool technology.
I was already sold on the technology itself from my own use, and a conversation with Shery Christopher also opened a door to a whole brand and business model that both intrigued and impressed me, so my husband and I flew out for a discovery day. We did sauna sessions at their location and realized their quality was undeniable.
As first time franchisees, we didn't know what to expect. But we knew that if we were going to align ourselves with an organization, we want to vet who they are and their approach. To our delight, the whole team was there on discovery day, and that hasn't stopped since then. They're always phone call or email away, completely responsive to our needs.
We knew after that first day, they had like minded passion for the wellness space. And on the flight on the way home, my husband and I started figuring out how to make this work. Because any new venture is a risk. As a franchisee, you're vulnerable. You're stepping out of your comfort zone. But the exciting part was, we believed we could make it work, thanks to the operations Perspire had spent ten years perfecting.
How did the opening go?
We signed an agreement on New Year's Eve 2019. Everything was going great and getting ramped up, but then we all know what happened in March of 2020. Thankfully, Perspire's team was incredibly responsive. They helped us put everything on hold and didn't pressure us to open a store until we were in business climate that was so uncertain. We felt supported by them.
It's funny, you have full control over the climate inside the sauna, but outside in the economic climate, it's so uncertain. This must be one of the reasons customers flock to Perspire. It's a tiny little environment you can control regardless of what's going on outside.
When were you able to move forward?
Over time, we felt more confident to move forward. The SBA process protracted our loans because banks were overrun. And it turned out to be helpful to let it play out, as that built our confidence as franchisees. Perspire trusted us to know our local and governmental nuance, so whether things had to be slow played, or acted on, they deferred to us.
What connection do you see between being a therapist and also a franchisee of a wellness studio?
Our healthcare system practices in these individual silos. When we should be treating the whole person, not just their anxiety, or their depression. As an owner, now I can integrate the franchise with my work as a mental health professional. I've certainly scaled back my work as a therapist, since opening a store requires higher involvement at the beginning. My husband does the backend books, so we're a good complimentary team.
It's been a wild journey since your diagnosis in 2015. How did you feel now?
By the medical model, there is still no evidence of disease in my body. Which is fortunate, although I still want to heal my whole person. I'm always happy to share my health journey in my private practice as a therapist, or as a retail owner. It's important to normalize it for people.
Ultimately, we're over the moon as franchisees of Perspire Sauna Studio. Since we're the first location in a cold weather climate, we've heard stories about people going to tanning salons just to feel warm. But we believe there's a healthier way. As we educate the community on the benefits and the wellness potential of infrared, we're hopeful for the future.
Scott Ginsberg is Head of Content at FranchiseHelp. He sweats more than any human being alive, and one day may open his own sauna franchise.
Should Franchisors Consider Private Equity Investments?
How can you be sure it's the right choice for you? We asked Glen Kaufman, Managing Director at American Securities, a private equity firm with a consistent track record in the industry. The middle-market firm invests in companies with revenues ranging from $100 million to $1 billion.
5 Traps for the Unwary Prospective Franchisee
When evaluating a potential franchise opportunity, prospective franchisees need to take care to put the hype and their emotions in check, and carefully consider all factors relevant to their buying decision. After all, the franchise will be a 5- to 10-year relationship (at minimum, under most franchise agreements), so it is well worth the investment to put in some research and analysis before taking the leap.
How Apricot Lane is Creating Retail Boutiques with the Franchise Model
You are correct - it is very difficult to use the words, "flexible" and "franchise" in the same sentence! The flexibility comes with allowing our franchisees to cater their product mix to their local demographic. Florida fashion is different than North Dakota, Louisiana or California. The sophistication comes with the build-out, marketing, point of sale - inventory management system, intranet communications, buying resources and most importantly, the networking of franchisees across the country sharing fashion trends and what's working.