Why The Entrepreneurs Of The Future Are Flocking To Franchising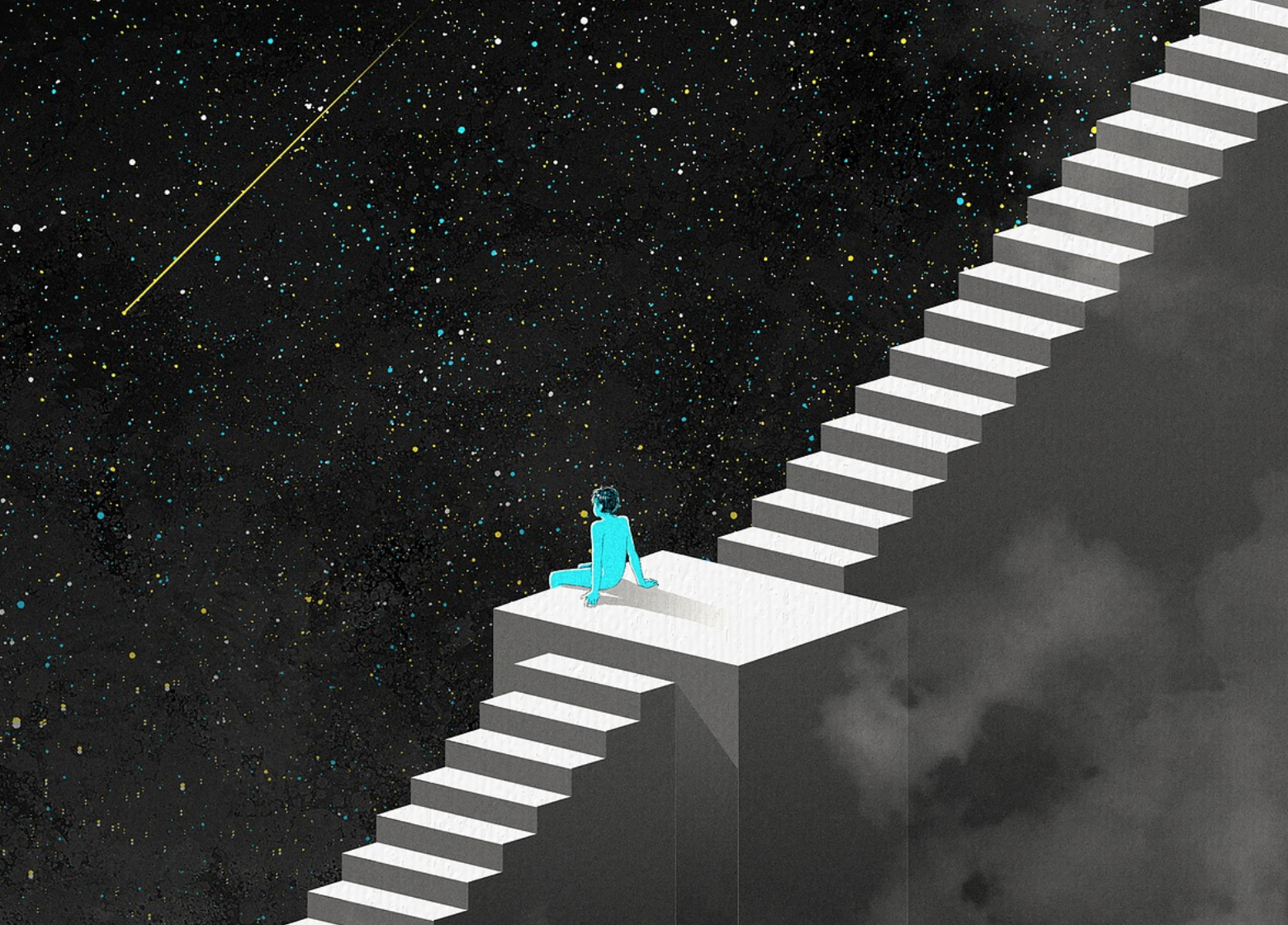 YouGov recently conducted a survey of 17-25 year olds about their career goals, and it's clear that the next generation of business professionals are asking themselves the same few questions:
*What career offers me financial security?
*Which type of job affords me the greatest flexibility and balance?
*How can my work make a positive impact on the broader world?
*Can the organization I become part of be one that values diversity and belonging?
If you get into franchising, the answer is a resounding yes!
In our last post, we destigmatized franchising for the younger folks. Now let's dive into detail as to why this career path checks the critical boxes of that same generation of entrepreneurs.
Why Money Still Matters
Considering this generation came of age during the Great Recession following the 2008 financial crisis, money is naturally the biggest concern.
I was reading about Generation Z and flashed back to buying my first home. I closed on a condo when I was 28 years old and felt like a legit, successful adult.
Six months later, the global economy collapsed. Whoops. I was afraid to even look at my mortgage statement and property value for the next decade.
Do you think that experience scared me straight? You bet.
I began a career transition a few years later from working freelance to joining an incredible team that supports me every step of the way.
Franchising can do the same for you. If you were traumatized by the economic shifts over the last decade like I was, consider a career that has more stability than depending on the whims of the fickle economy. Franchisors are masters at masters at helping their franchisees feel supported.
Flexibility Is (Still) King
Pew Research utilized a sample of job applications started on Glassdoor between October 1, 2018 and January 11, 2019 to look at the employers, metros and occupations that Gen Z and millennial job seekers are applying to in the U.S.
The data shows that "flexible hours" is among the common keywords used by Gen Z to describe the pros of working for their employers.
Sure enough, franchisees often share the same words when talking about their career. Many franchisees pick business models that jive with their lifestyle, in terms of hours, work shifts, weekends and nights, and so on. Depending on what brand you match with, there's no reason you can't circumvent the 9-5 grind and find a schedule that works best for you.
Everyone from GlassDoctor to The Dentist's Choice to Wall Beds N More highlight their franchisees' flexibility, and they're not the only ones! Find the franchise opportunity that works with you, and work life balance won't be fantasy.
The Future of Franchise Ownership Is
Here's one last piece of data that proves the next generation of entrepreneurs is looking towards franchising as a viable career path.
Franchise Insights recently showed that for the first time in history, more Millennials are seeking franchise ownership than Baby Boomers. See the graph below, and read their article for more information: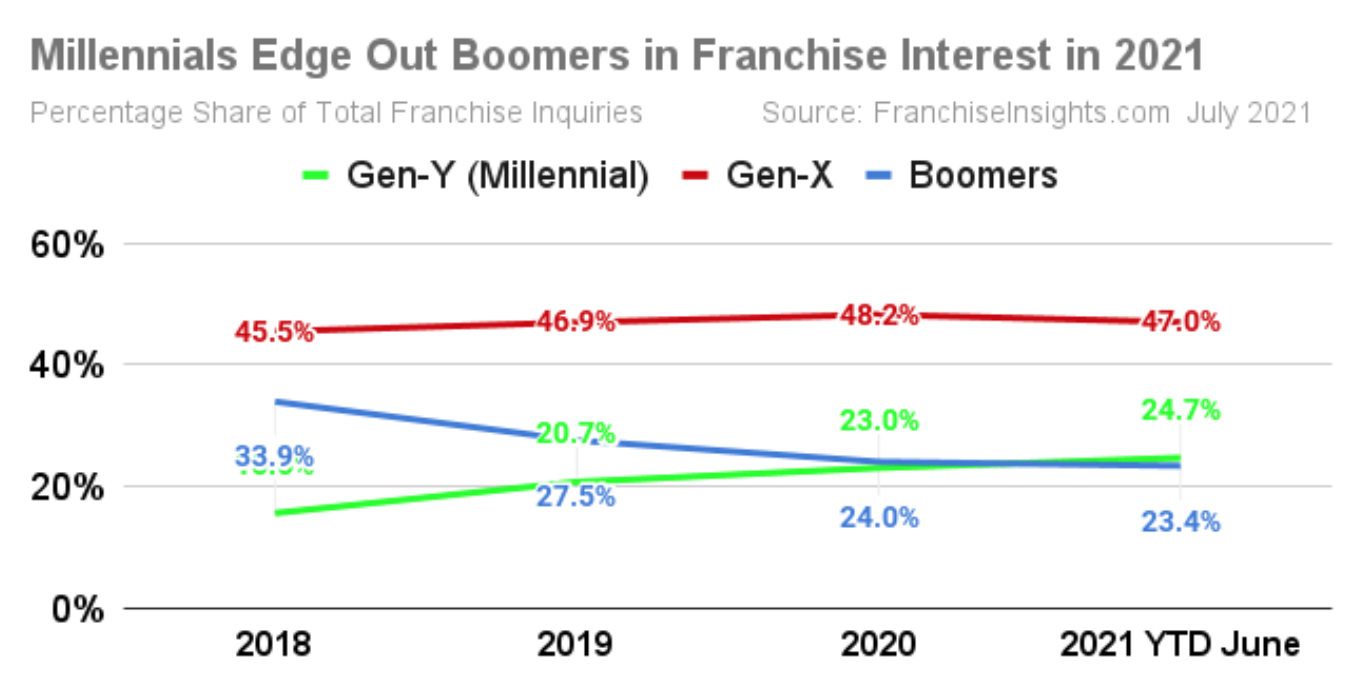 As a business professional of tomorrow, it's clear that you are franchise ready. You'll be able to bring the technological acumen, high ambition, tolerance for risk and world changing energy that every franchisor needs.
What's more, if you're socially oriented and looking to have a positive impact on the world, then your innovative ideas are going to be welcomed by franchise brands hoping to make their mark.
Scott Ginsberg is Head of Content at FranchiseHelp. He's a member of Generation X, since he still writes physical checks.
Why I Have an Issue with the Forbes Franchise Rankings
The 5-Year Growth Rate and 5-Year Franchise Continuity are both great independent metrics of how a franchise is doing on average. As a potential franchisee both of these statistics are vital for selecting a franchise - you want to select a franchise that will provide you with a high return on investment and which will survive in the long run. I think these are, as FRANdata and Forbes suggested, two of the biggest (if not the two biggest) and most obvious metrics for whether or not a franchise is a "good" opportunity for a franchisee. But how do you use these to determine which franchise is BEST? This is the fundamental difficulty in coming up with a ranking system - it isn't the difficulty in separating the good from the meh from the bad - it's separating the great from the good and the best from the great. In the case of these rankings I found it to be pretty difficult to comprehend how they differentiated between the top ranked franchises. For instance, if you look at the difference between Discover Map (Forbes #4), Just Between Friends (Forbes #5), & Seniors Helping Seniors (Forbes #6) they all have extremely close continuity ratings and substantially different growth rates. In fact, in the case of these three, the overall rankings are opposite the growth rate rankings. Seniors Helping Seniors is ranked at the bottom of these three franchises despite having a growth rate that is 31 percentage points higher than Discovery Map and a continuity that is only 2 percentage points lower. This suggested to me that continuity was viewed as the dominant factor. But that logic didn't hold for the rest on the "Economy Class" Top 10, as BrightStar Care (Forbes #7) had the same growth rate as Pop-a-Lock (Forbes #8) but a continuity rate that was 12 percentage points lower. These comparisons show that these were not the only two factors that went into the rankings, which is understandable, but no other factors that are explicitly listed in their results seem to be major factors.
How To Be A Better Boss To Yourself, Part 2
In this series, we've been talking about how franchisees can be better bosses to themselves. Doing so takes unremitting effort. Not only operationally, financially and strategically, but also psychologically.
How Franchisors Are Innovating To Serve Their Communities
It's been quite some time since we've started to fight this war against an invisible enemy. Just as the news reports - individuals and businesses have been heavily impacted by the virus and we've had to adapt to the situation in ways we've never expected or experienced before. And more importantly than ever, the community's ability to come together and rally support for one another is one of the key factors to us riding out this pandemic.