Cleanpro Carpet Cleaning System
Business Opportunity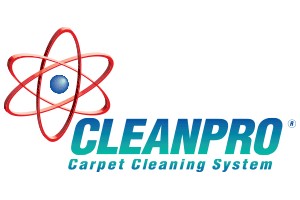 Cleanpro is an eco-friendly carpet cleaning business opportunity that utilizes specialized ION Exchange process and citrus-based organic solutions to clean residential and commercial carpets. Cleanpro also does tile and grout cleaning, and upholstery cleaning. Cleanpro represents a low overhead, one-of-a-kind opportunity in the carpet cleaning industry.
| | |
| --- | --- |
| | $30,000 |
| Net worth required | $100,000 |
| Investment | $30,000 |
| Units in operation | 60 |
| Founded | 1987 |
Own a Cleanpro Carpet Cleaning System Business - Questions & Answers
What is it?
Cleanpro provides carpet cleaning services using their proprietary Ion Exchange™ process.
The Ion Exchange™ process was designed as an eco-friendly, carpet cleaning system that can handle the dirtiest carpets imaginable.
Cleanpro is also an expert at cleaning unpholstry, tile and grout, and have a proprietary deodorizing process.
How does it make money?
Homeowners and businesses pay Cleanpro licensees for carpet cleaning services
Cleanpro stands out from other carpet cleaning businesses because of its unique eco-friendly system
Who is it for?
Someone who wants the low overhead and flexibility of working from home
Someone who doesn't want to pay ongoing royalties to a franchisor - since Cleanpro is a business opportunity, startup costs are low and there are no royalties or franchise fees.
Cleanpro owners have the option of being hands-on owner-operators, or they can run it as an executive model.
What would you do as a licensee?
Promote and educate people and businesses about the carpet cleaning industry and Cleanpro Ion Exchange™ process.
Owners can choose to run the day-to-day operations, or they can run their business as an executive model by hiring a manager and employees.
The Cleanpro Family
At Cleanpro we take pride in helping every one of our Cleanpro professionals from all over the United States to help achieve their goals. We provide exclusive ongoing support, training and business services so you can have the confidence you are not alone with your small business. Here at Cleanpro, you're family!
Cleanpro is a very unique business in that it is a carpet cleaning business that is 'eco-friendly', utilizes a scientific process that cleans carpets in a way that no one has been able to duplicate. Our process works with one of a kind technology called an Ion Exchange process. It dries in about 1-2 hours, leaves absolutely no residue, and best of all, carpets last 2-3 times longer when using our process. The results are undisputedly the most amazing results in the industry.
About Cleanpro
The Cleanpro Carpet Cleaning System® was developed by Kevin Owsley and the help of a chemist named Dave Maxwell to overcome the all too familiar problems associated with steam cleaning (hot water extraction). From inception, Cleanpro has continued to impress customers worldwide with our unique method of carpet cleaning. We are proud that our Carpet Cleaning System has provided many people with the opportunity and cutting edge needed to get an advantage in the carpet cleaning industry. We have been experiencing tremendous growth in the use of our system worldwide. For decades Cleanpro has been a valued supplier to 2 of the largest hotel chains in the world.
The science and technology that Cleanpro incorporates into our specially formulated citrus-based organic cleaning solution provides the end customer with an amazing carpet cleaning job virtually every time, especially when the carpet is extremely dirty. The Cleanpro Carpet Cleaning System® was designed to clean the dirtiest of carpets safely, effectively and quickly, while still using a low moisture process.
8 Great Reasons to Take a Close Look at CleanPro:
1. Superior Eco-Friendly Carpet Cleaning System that dries in about an hour and leaves absolutely no residue and provides results that are unbeatable.
2. Utilizes a one of a kind technology called an Ion Exchange, and a carpet cleaning system that has never been duplicated.
3. Cleanpro has been fully endorsed by Best Western Hotels International for more than 10 years, as well as The UPS Stores and received highest compliments from the Wall Street Journal in an undercover story.
4. Cleanpro has a $50,000 challenge to all competitors! No competitor has ever been willing to go head-to-head with Cleanpro. Simply because the don't have confidence in themselves to outperform our system.
5. Initial investment is under $50,000 to purchase the opportunity from Cleanpro. You can work from home - low overhead.
6. Business can be a good fit for owner operator or "executive model" for clients that want to scale the business up by doing business to business.
7. Strong validation for either model with over 75 licensees currently in the system.
8. This is a very straightforward business and no sales or business experience is required. Cleanpro trains, and mentors in all aspects of the business and provides ongoing support for the life of the business.
Cleanpro Testimonial
"As you know, I left a lucrative corporate career of 9 years to start my own business. I went through every emotion possible while making my decision. At times I felt like I had jumped out of an airplane with no parachute. Now I realize that Cleanpro and the Cleanpro Carpet Cleaning System were, and are my parachute, back up chute and a balloon to help me rise to the top.
The results achieved with the use of the Cleanpro products are amazing. Everyone has been amazed with how clean their carpets look and feel. Customers have been eager to provide referrals.
I researched many carpet cleaning companies, and I am confident I have chosen the best. Thank you for providing me with every tool I need for Tidewater Cleanpro to grow, while making my customers happy."
Rick Smaltz - Tidewater, Virginia
Is this your franchise?
Contact us to unlock your franchise's page to add content and get leads!