United Water Restoration
Franchise
United Water Restoration is a restoration franchise that helps in the event of a natural disaster, such as repairing damages from water, fire, smoke or mold, but they can also help clients with their day-to-day needs, such as property reconstruction with full-service solutions.
| | |
| --- | --- |
| | $101,000 |
| Net worth required | $150,000 |
| Investment | $99,000 - $508,000 |
| | $49,000 |
| Royalty | 6.0% |
| Units in operation | 18 |
| Founded | 2008 |
| Franchising Since | 2015 |
Own an United Water Restoration Franchise - Questions & Answers
What is it?
Comprehensive residential and commercial water, fire and damage restoration service
Also provides mold restoration, decontamination, inspection and cleanup services
How does it make money?
Residential and commercial clients pay for contracted restoration services
May frequently involve payment from insurance coverage
Who is it for?
Someone who seeks a home-based business with travel included
People with knowledge of home systems and potential building damage sources
What would you do as a franchisee?
Work with residential and commercial clients to determine restoration needs
Travel to homes and business buildings to conduct damage restoration services
United Water Restoration Group (UWRG)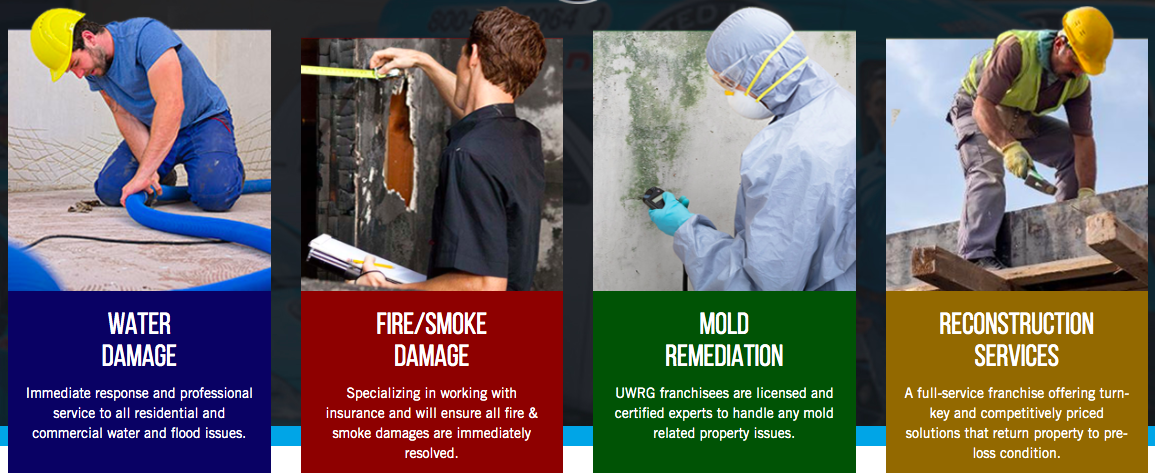 About Us
Since 2008, United Water Restoration Group (UWRG) franchise owners have made a remarkable impact in their communities. Not only do our restoration franchises help in the event of a natural disaster, such as mitigating damages from water, fire & smoke restoration, and mold remediation, as well as disinfecting services.

Our Opportunity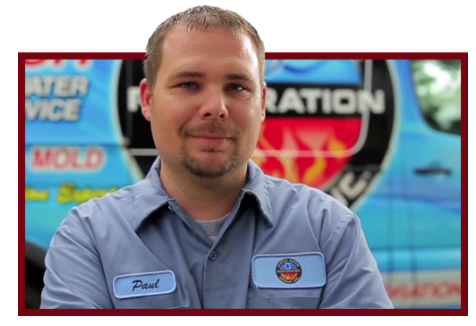 Offering crucial restoration services to property owners in their time of need, UWRG franchisees embark on a career path with unlimited prospects for personal, professional and financial growth. There are plenty of great reasons to open a restoration franchise:
$200+ billion market: Fire and water damage restoration franchises have a massive market to work with, meaning there are plenty of opportunities to grow your business.
Multiple revenue streams: There are multiple ways for you to find success within a restoration franchise. Including, tapping into the rebuild/reconstruction services.
Completely recession-resistant: No matter what state the economy is in, there will always be a need for damage restoration franchises.
Simple business model: Our restoration franchises run off a simple business model so you can focus on growing your business rather than stressing about complex business details.
High margins, quick ramp-up: There is massive potential for success with restoration franchises, and it's not difficult to get on your feet quickly.
B2B marketing to professionals: B2B marketing allows you to more easily find and serve clients.
The Industry

In recent years, the average home flood claim cost amounted to nearly $42,000. Over a 10-year timeframe, total flood insurance claims reached more than $3.5 billion. Fires in the U.S. caused nearly $11.6 billion of property damage in the 1.2 million fires reported in 2014 alone. That same year, eight other weather and climate-related disasters occurred in the U.S. with losses upward of $1 billion.
Thousands of homeowners experience environmental damage to their home every year. UWRG is positioned to assist home and business owners when disaster strikes, but keep in mind that disasters are not the only source of business for UWRG franchisees, neither is our business model built around chasing these events.
The primary business UWRG handles on a daily basis and the massive growth of the remediation and restoration industry is supported by fundamental infrastructural issues, including:
Ongoing property renovations
Aging plumbing and electrical systems
Increased dependence on plug-in electrical items
Odors from HVAC systems
Mold growth from trapped moisture
There is no end to the factors that can cause accidents and damage to properties. Regardless of the state of the economy, there will always be a need for quality- and service-oriented restoration companies like UWRG.
UWRG franchise owners adopt a proven business model that paves a pathway to success in the recession-proof, multi-billion-dollar property damage and restoration industry.
Backed by comprehensive training and support, UWRG franchisees competently and compassionately provide quick professional service and are a chosen property restoration provider nationwide.
Contact us today to begin your journey towards franchise ownership and financial success!