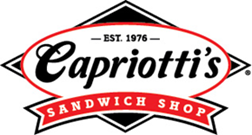 Capriotti's Sandwich Shop and Wing Zone Debut First Las Vegas Strip Locations
Leading QSR Franchise Brands Expand Presence to Sin City's Most Famed Attraction
LAS VEGAS (MARCH 7, 2023) – For the very first time, Capriotti's Sandwich Shop (Capriotti's) and Wing Zone have introduced franchise storefronts on the Las Vegas Strip in the NYNY Casino at 3790 South Las Vegas Blvd. The long-awaited development news comes as a result of a franchise agreement struck between both brands and the Vegas-based Fifth Avenue Restaurant Group.
Fifth Avenue Restaurant Group has operated out of Las Vegas Since 2001, building a portfolio of 16 individual full-service and fast-casual food concepts throughout the city. In the decades since, their team has become uniquely familiar with the quality of leadership, the innovation, and direction of both the Capriotti's and Wing Zone franchises.
"Our involvement in helping the Capriotti's and Wing Zone brands to expand their footprint here in the home market has been a long time coming," said Robb Bonanno, EVP of Fifth Avenue Restaurant Group. "It's just been a matter of finding the right real estate, in the right location, at the right time. And the stars finally aligned."
Only a couple of weeks since their grand opening, Bonanno shared Fifth Avenue Restaurant Group's interest in bringing even more Capriotti's and Wing Zone locations to the area in the near future. Citing confidence in their "high-quality offers, inventive and award-winning menu selection, professionalism, and customer experience" as factors prompting their hope to deepen ties with both concepts, according to Bonanno.
"We're a people-first company. A mentality that includes the franchisees we permit to become a part of our brands," said Ashley Morris, CEO of Capriotti's Sandwich Shop and Wing Zone. "We know the experience, expertise, and vision of the Fifth Avenue team will make them a proud addition to our franchise family and will help them put the people of Las Vegas first, as has always been our aim."
For more information about Capriotti's franchise opportunity, please visit http://www.ownacapriottis.com. For more information about the Wing Zone franchise opportunity, please visit https://wingzonefranchise.com/.
About Capriotti's Sandwich Shop
Founded in 1976, Capriotti's Sandwich Shop is an award-winning national franchised restaurant chain that remains true to its 40-year tradition of slow-roasting whole, all-natural turkeys in-house every day. Capriotti's cold, grilled, and vegetarian subs, cheesesteaks and salads are available at more than 167 locations across the United States. Capriotti's signature sub, The Bobbie®, was voted "The Greatest Sandwich in America" by thousands of readers across the country, as reported by AOL.com. Capriotti's fans can also download the CAPAddicts Rewards app for iOS and Android, where they can earn and redeem rewards. Capriotti's plans to grow to over 500 locations by 2025 and was ranked on Fast Casual's Top Movers & Shakers List each of the last two years (2020-21). For more information, visit capriottis.com. Like Capriotti's on Facebook, follow on Twitter or Instagram.
About Wing Zone
Founded in 1993, Wing Zone is an international fast-casual restaurant franchise known for its cooked-to-order, flavor-fused chicken wings, and tenders. Wing Zone's award-winning flavors are available at more than 31 locations in North American and its 30 restaurants internationally. The brand plans to grow to 250 profitable restaurants by the end of 2025. For more information, visit www.wingzone.com. Like Wing Zone on Facebook, follow on Twitter or Instagram.
Dickeys Barbecue Pit Announces Expansion Plans Within New York State, Adding Two Stores in Buffalo, NY
(Buffalo, NY) Dickey's Barbecue Pit is expanding to Upstate New York with a development agreement just executed to open two new stores in Buffalo. Currently the closest Texas-style barbecue is over three hours' drive away, and the new restaurants will provide a new Fast Casual concept to the city overflowing with wings and pizza. The first new location will open by the end of 2016 with the second opening in 2017. Location sites are in the process of being selected.