California Franchise Opportunities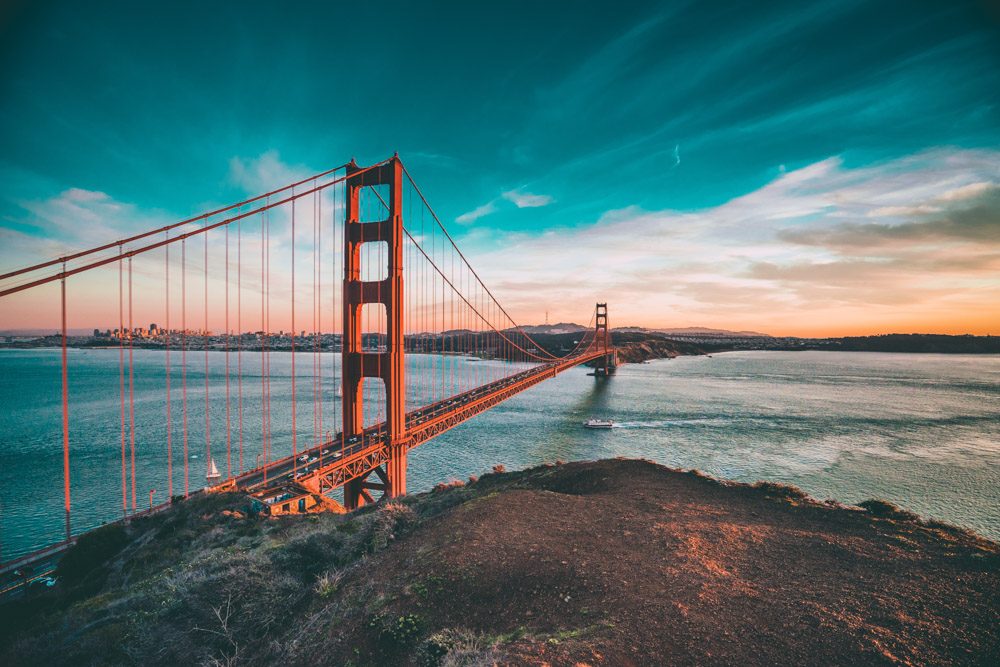 California truly is The Golden State. Home to an array of important people, places and companies, California is a franchisee's paradise. The beautiful landscapes are complemented by the booming economy, and there are plentiful opportunities for motivated entrepreneurs who want to begin a new venture on the West Coast.
The Land of Plenty
No matter where you choose to start a franchise in California, odds are you will have temperate weather, beautiful scenery and lots of potential customers. Here are a few of the major metropolitan areas you could settle down in:
San Francisco Bay Area: If you want to jump in on the technology boom or pander to those who want environmentally friendly solutions, San Francisco might be for you! The Bay Area is a large place though; don't count out smaller cities in the South or East Bay, such as Sunnyvale or Oakland.
Los Angeles: Want to live among the stars? Consider LA, which is a world center for media, motion pictures, television, business and international trade. With nearly four million residents, you'll never feel alone.
San Diego: Sitting right near the Mexican border, San Diego is a bustling city that has miles of beaches and thrives off tourism. With 1.3 million residents and many higher education institutions, this could be a sunny new home.
Sacramento: The state capital, Sacramento is situated high in Northern California on the American River. Rich with history (and maybe some leftover gold), the city boasts 2.5 million people in its metropolitan area.
Tricky Taxes
California has a franchise tax, a corporate income tax, and an alternative minimum tax. Your franchise might have to pay one or more of these depending on its taxable income and legal form.
There is also a state income tax, which varies from 1 to 12.3 percent based on income, plus a 1 percent surcharge on taxable income of $1 million or more.
By the Law
In 1970, California passed its Franchise Investment Law, which requiresfranchisors to register with the state before offering and selling franchises in California.
The law also requires that registration disclosure documents and final franchise agreements be provided to prospective franchisees at least 10 business days before the sale of a franchise.
The purpose of the pre-sale disclosure is to provide comprehensive and honest information about the franchisor and its franchise offering to the prospective franchisee prior to a purchase decision.
California by the Numbers
As the most populated state in the nation, California is home to 38.8 million people, or roughly 1 out of every 8 people in the United States.
California's GDP is $2.2 trillion, which is more than some large countries such as Russia, Canada, Spain and Australia.
There are roughly 3.5 million small businesses in California, making up 99.2 percent of all employers in the state.
Alabama Franchise Opportunities
While you might think of peanuts and cotton, the state of Alabama boasts a wide array of businesses and nearly five million residents. Major industries include agriculture, aerospace, mining and automobile manufacturing. The economy is comprised mainly of small businesses, and would be an excellent place to open your new franchise!
New York Franchise Opportunities
Although it may seem like New York is the land of major retailers, small business is booming in the Empire State—there are more than 2 million small businesses in New York. These are located in every region, city and neighborhood of the state, making New York a fantastic place to start your franchise.
Texas Franchise Opportunities
Everything may be bigger in Texas, but it ranks second in many things: population, size of the state and GDP. Still, that's enough to make it one of the biggest, most productive states out there, with enough barbecue, chili and cowboys for all.