Franchising, Interrupted: Our 2020 Year In Review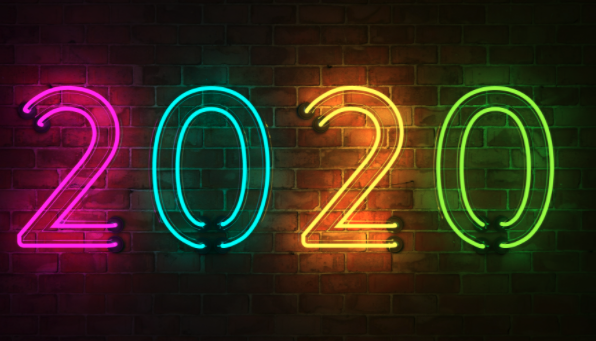 As we close out perhaps the most bizarre calendar year in recent history, we'd like to take a moment to reflect on the past twelve months, and also think about our year ahead.
It's no understatement to say there are many challenges to reflect on. Franchise businesses in particular should take a bow for how empathetically and wisely they have weathered this year's events. For many brands, it was an economically disruptive and emotionally devastating year, with so many franchises working overtime to handle the fallout of suspending operations or closing their doors.
At the same time, there are also many accomplishments to celebrate. These should serve as a counterbalance to the difficulty we all experienced and give us hope for the year ahead. Join me in a reflection of 2020 and a peek into what's in store for franchising in 2021.
Reacting to economic trauma
No brands in the franchising world, including vendors like FranchiseHelp, had a game plan in place to deal with a global pandemic. If you were ever unsure of what the word unprecedented meant, now we have no doubt.
All of us were forced to think on our feet, adapt, over communicate and get creative in our problem solving. As if working remotely wasn't already enough of a shock to our system, everyone on our team worked over time during 2020 to make sure our clients were able to stay above water in their franchise development efforts. Even if that meant getting creative on account terms or pausing them altogether for a while.
From a legislative standpoint, The Department of Homeland Security reacted to the crisis in its classic manner, issuing guidance on workers who are essential to infrastructure. The obvious essential businesses included convenience stores, garbage collection, daycare centers, supermarkets and grocery stores, pharmacies, hardware stores etc.
Sadly, the nonessential businesses are generally recreational in nature. As much as we all love theaters, gyms, salons, museums and bowling alleys, most of those companies were not classified with the coveted two words: Essential business. This was troubling for many franchises in those verticals, like health organizations, emergency services, cleaning franchises and so on.
This phrase, essential business, created a new reality and changed the way potential franchisees now consider making an investment in a new opportunity. Not to mention, how franchise brands position themselves in the market. The candidates of 2021 are going to want a business that is built to last. (Read our post on researching essential businesses for a deep dive into this issue!)
Mike Bidwell, the CFE of Neighborly, one of our clients, wrote an inspiring article that you can read in IFA's magazine. His comment about the trauma of 2020 was that while we're not out of the woods yet, this pandemic has, at the very least, helped us strengthen our values. We all learned how to build systems that will allow us to be more flexible in the future. And our collective resilience as an industry went up dramatically this year.
How has the pandemic made you more resilient?
Hope is the candle in the economic darkness
One of my favorite mantras for staying resilient during difficult times is, "I look forward to looking back on this."
It's an optimistic reminder that while current circumstances aren't to our liking, we can overcome them and come out on the other side as smarter business people and more compassionate human beings. It doesn't put money in our account today, but it certainly buoys our spirits about tomorrow.
Many franchises proved this in spades this year. We started seeing amazing humanitarian efforts on the brand side, and highlighted them in a new series for 2020 called FranchiseHope. If you missed some of these stories, they will not only warm your heart, but creatively inspire you to think of ways to use the crisis and opportunity to deliver unique value for your team members, franchisees, customers and communities.
Here are a few of our most popular posts from this series, just in case you missed any of them in our weekly newsletters and blogs:
What Kiddie Academy Can Teach Business Owners About Resilience

This education brand understood that while the economy on the whole may not be doing well, specific industries have opportunities to thrive.
How Home Franchise Concepts Continues to Innovate With Owners & Families
They gave us insight that franchisors and franchisees alike can take to heart, take to the streets and take to the bank during these turbulent economic times
PuroClean Built A Recession Resistant Business Around Community Expertise
In the spirit of servant leadership, they're using the pandemic to be of greater and broader service.
Dickey's Barbecue Is Adapting To Support Their Owners During Tight Times
Quick service restaurant franchises got hit hard this year, but this franchisor works tirelessly to support their owners.
We've heard so many stories about how people have been finding ways to support each other in these trying times. We hope these stories of franchises innovating their business model to adapt and push forward in this new economy inspires you to do the same within your business.
The data points to an optimistic next year
One of the silver linings we've seen in the franchise industry this year is that although there's less stability in traditional employment, more and more people are looking to go into business for themselves, by investing in a franchise.
And more than that, existing franchisees are reporting greater satisfaction with their franchise, as they see firsthand the benefits of having the support of a strong franchisor behind them. Going into business "for yourself but not by yourself" has long been a watchword in the franchise industry, and this year proven how seriously we take it.
We wanted to explore a few sets of data to reinforce this theory.
First, one of our sister companies, FranFunnel, shared early evidence showing franchise development's resilience to the pandemic. Some of their excerpts from text message excerpts between salespeople and candidates were compelling.
Franchisors aren't seeing texts from leads like, "Call me when the pandemic is over," but "Call me at 3pm tomorrow." Here were two of my favorites from this year:

By adding the three simple emojis at the end of the intro text, you can really begin the process of relating to the person on the other end of the line. People use emojis a lot, so there's no reason that businesses shouldn't. It probably brought a smile to someone's face in an otherwise difficult time.
Make sure to check out more examples like this on their blog's Text Message Beauty Pageant.
FranFunnel proved that franchise brands have an immense amount of fortitude, and are excited to keep on carrying on. It seems there is a commitment to keeping the economy, and their own personal way of life, moving forward as much as possible.
This speaks volumes about the robust resilience of those working in the franchise space. Not only are people moving conversations forward, but also expressing a high level of confidence in the franchise industry, and in the future of the economy.
More recently, in our annual data driven 2020 United States of Franchising report, we were thrilled to see that, similar to years prior, The South is the center of franchising in the U.S. The three states most interested in franchising are Louisiana, Georgia, and Mississippi.
Indeed, if there was ever an inspiring example of "Steadfast in the South," this year would take the cake for the lower half states. Despite closings and other damages from the pandemic, we're optimistic to see the numbers showing interest in the field of franchising having a positive relationship with the changing economy.
# # #
In summary, 2020 has been a strange, chaotic but surprisingly hopeful year. We're grateful to have made it out alive so far, stumbling but surviving, curious how the next twelve months will unfold.
Cheers to a happy holiday. We're hopeful next year will go better for all of us, and FranchiseHelp will be here with you every step of the way.
Scott Ginsberg is Head of Content at FranchiseHelp. He spent the majority of 2020 chasing his dog around the apartment.
What Your Franchise Category Tells You About Digital Marketing
The assumption is that all potential franchisees in the big wide world in the Internet conjure the same mental image when they hear "franchise" or "franchising." Obviously there a lot of people on the Internet, and a lot of different interpretations of any word, so how do you cover all of your bases? A good person to first appeal to is your average consumer, meet "Bob."
What sitting in a hallway, real estate, and Facebook ads have in common
The past few days, FranchiseHelp had the pleasure of attending the 6th Annual International Franchise Brokers Conference and Expo. As part of our attendance, we were invited to exhibit in the hallway right outside of the exhibition hall. (Franchises that work directly with the brokers were invited to sit in the hall itself.)
When Should You Serve Facebook Ads. AKA We Tried to Outsmart Facebook
We love Facebook ads here at FranchiseHelp. They're a great tool to use to reach a very specific audience with a more narrative message than you can usually accomplish with search ads. But beyond that we love the details you can get out of the data and the amount you can tweak your campaigns to take advantage of all sorts of small details. That's why we figured that Facebook would be the perfect place to run this experiment. We created a set of ten different ads and then ran each ad in 24 different adsets, one for each hour of the day. We let these ads run for a full month and believe it or not, a best time started to emerge.