Pizza Industry Analysis 2020 - Cost & Trends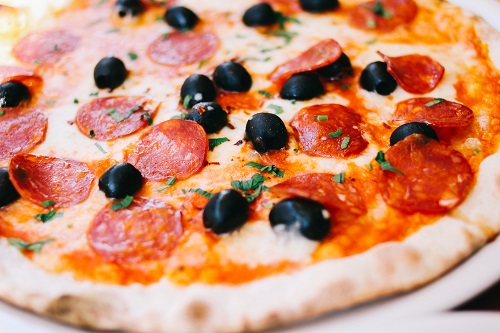 In the United States, pizza is a passion. The taste, style and even the shape of pizza can be a point of local pride as fierce as that for any sports team. Chicago-style deep dish aficionados pit themselves against NY thin-crust lovers, California designer pizza fans and everyone else. Everyone claims to have the best pie and discussions get heated!
But despite these differences, everyone agrees that pizza is a food institution. It might be a cheap meal after a game, a date night, a weekly treat, a quick lunch, or even a breakfast. Americans eat a lot of pizza - on average 23 pounds each year!
And as you've probably noticed, there seems to be plenty of parlours, stands, restaurants, kiosks and counters peddling their own variety of pie. But despite the obvious availability of pizza nearly everywhere, extremely strong demand together with the evolving tastes of the American consumer provides ample opportunity for entrepreneurs - particularly for the franchisee.
Pizza by the numbers
The estimated North American growth rate for the pizza industry for the years 2014-16 is 2.35%, and the total number of stores is expected to increase by 2.35%, to 74.8 thousand.
2015, however, was a slight down year in terms of both overall revenue and average same store sales. 2015 revenue was $38.5 billion, 0.05% down from the previous year. Average same store sales declined $514.7k, a loss of 2.34%.
These numbers, however, conceal an interesting shift in pizza market share: away from independent businesses and towards chain operators.
Franchises have an edge in today's market - and it's gaining them market share.
Taking a closer look at the numbers, it's clear that chains (defined as having 10 or more locations) are significantly outperforming independent operators (less than 10 locations), both in terms of total revenue and average same store sales.
Independent
Operators
2015 Revenue:

$14.9 billion



Year/Year Change:

-5.01%



2015 Same Store Sales:

$384.5k



Year/Year Change:

-3.21%



# of Stores Y/Y Change:

-1.85%



Chain Operators
2015 Revenue:

$23.5 billion



Year/Year Change:

+3.38%



2015 Same Store Sales:

$655.8k



Year/Year Change:

+3.82%



# of Stores Y/Y Change:

+7.33%



While top-line revenue can be attributed to the sheer number of total locations, the drastic difference in same store sales year-over-year growth tells the true story - chains are outperforming.
Who gets the biggest slice?
Chains have been stealing market share from independents for years, and 2015 saw a 2% shift in their direction. Chains now account for 61% of the total market.
Much of this continuing shift can be attributed to the flexibility of bigger companies to meet the changing requirements of the consumer. More of today's pizza eaters want to be able to order online or from their smartphone - both of which are prohibitively costly to implement for the typical mom-and-pop slices shop.
Not only do people prefer the convenience of digital ordering, studies show that people spend more when they order online. They are also more likely to order again - once they've ordered, chain stores can market directly to these consumers again. They've also likely saved their payment information and possibly stored delivery preferences. It's estimated that 50% of Domino's sales come from this type of ordering. Higher sales per ticket and repeat business are crucial to restaurants – and many independent operators are missing the boat.
Among the many chain pizza businesses in the country, market share is seriously concentrated among the top ten – 43.8% of the total market belongs to them. The Big 4 dominate the scene:
| | |
| --- | --- |
| Big 4 Pizza Chains | 2014 Market Share |
| Pizza Hut | 14.79% |
| Dominos | 9.86% |
| Little Caesars | 7.85% |
| Papa John's | 6.45% |

Who's eating all this pizza?
Most of us might still think of football games and nights out with "the guys" – but the more typical consumer is now actually a younger female with a healthy workout schedule. According to research done by PMQ Pizza Magazine, 63% of self-identified "pizza lovers" are women. The average consumer is now health conscious and works out twice a week. This change reflects the broader movement among the population to live a healthier, more balanced lifestyle.
The 80 million millennials buying pizza were expected to outspend baby boomers by 2017. Not only does this younger crowd look for the healthier options, they also consider themselves "foodies" – interested in the experience of eating more than the sustenance. They love custom, build-your-own pizzas with interesting and unique tastes, textures and ingredients. And they want to talk about it – online, of course!
Today's consumer also wants to frequent a business with a social conscious. They want to feel good about supporting establishments that focus on sustainability and natural ingredients. Even Pizza Hut has announced a commitment to reduce their energy and water consumption and has begun using more environmentally friendly packaging.
Trends
Even in a market as well addressed as the pizza industry, opportunity abounds. There are a number of key trends to keep in mind if you're thinking about taking the plunge:
Healthy options – increasingly the American consumer is trying to improve their lifestyle. They are exercising more, shopping for more natural and wholesome foods, and frequenting restaurants that offer the same. Pizza parlors that provide a diverse menu – most offer robust salad options already – will continue to benefit.

Environmentally conscious – particularly for the huge millennial population, they are looking to frequent establishments that want to do more than make a buck – or at the very least, make that buck in a responsible manner.
Fast casual restaurants are the fastest growing segment of the restaurant market, and the "step-up from fast food" is finding great success in the pizza market. Fast casual pizza is focused on winning the lunch crowd, while traditional pizza stores focus on dinner and delivery. These new chains are thought to compete more with restaurants like Chipotle than the local pizza shop.
Technology enablement – pizza chains are making great strides by creating a robust online presence and providing easy online and mobile ordering.
Of course it all depends on your local market – if you're interested in pursuing a pizza business make sure you understand the local tastes and or course the competition. Check out some of these franchise opportunities!
Pizza Hut - needs no introduction!
Kono Pizza - it's a pizza cone!

Ed & Joe's - pizza is the star, but it's a full-menu
Jet's Pizza - deep dish, square shaped
Eatza Pizza Buffet - all you can eat!
DoubleDave's - hand-thrown dough
Pizza Rev - build your own pizza!
Sbarro - NY Style
Sarpino's - delivery focus
Flipper's - fast casual
Buck's - pub pizza!
Chocolate Industry Analysis 2020 - Cost & Trends
If you answered "neither," you're in the minority. Most people either want to get a taste of that chocolate goodness, or just finished having one. Particularly in the western world and increasingly in the eastern, it is a hugely popular ingredient or main event for desserts and even meals.
Burger Industry Analysis 2020 - Cost & Trends
In the early 1200s, the Mongol army placed slabs of lamb and mutton under their horse saddles as they rode into battle. After the meat was tenderized by the saddle and the back of the horse, they would consume it raw, as if it were an uncooked beef patty. This strange but practical method eventually developed into the creation of modern ground beef. Now that you've got ground beef, you know what has to come next: the hamburger.
International Franchising Industry Analysis 2020 - Cost & Trends
Franchising outside of the United States presents a different set of opportunities and challenges from franchising domestically, including different franchise structures and distinct cultural and legal frameworks. Careful research and consideration must be taken before considering opening a business in an unfamiliar country.