One Franchisees Story - Bill Higgins Journey From the Telecom Industry to HOODZ Franchise Owner

Bill Higgins' path showcases a different side of franchising since his chosen business does not fit neatly with his background. Prior to launching his HOODZ branch, Bill did not have extensive experience cleaning commercial kitchen appliances. Born and raised in Indianapolis, Bill grew up as the youngest of five children in a single parent household. Despite having her hands full, Bill's mother managed to send four of the five to college. Bill graduated from Indiana State with a degree in sociology, and began his career in retail management. After a few years, he followed in a friend's footsteps and transitioned to a role on the inside sales team with AT&T. Bill worked in the telephone industry for 18 years, eventually rising to a sales management position with responsibility for Indiana, Ohio and Michigan. He tagged along when a Senior Director jumped ship to a smaller firm with more potential for upward mobility. Despite some early success, Bill's companion was laid off not long after the switch. While the VP for the company assured him his job was not in jeopardy, Bill decided to seize control of his own destiny.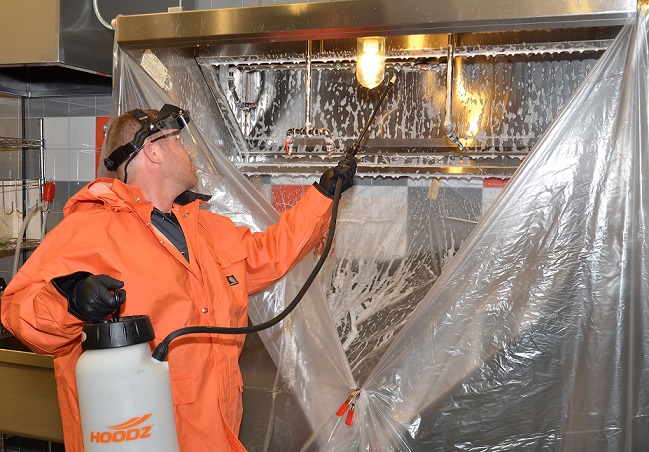 Over the course of the next few months, Bill met with several companies as potential landing zones. Nevertheless, none of the suitors agreed to include partial ownership in their offers that would guarantee the longevity Bill sought. The lack of compelling corporate opportunities motivated Bill and his wife to explore launching their own business. They engaged a broker who informed them of the available options on the auction block and introduced them to several franchises. After several months of careful consideration, Bill settled on HOODZ as the right fit.

HOODZ offers numerous commercial kitchen cleaning services, and has established the largest oven cleaning service network in the country. While Bill's background may not have been directly related, he appreciated the tight knit owner network offered by HOODZ and the sticky nature of the business model. In Bill's own words, "Your customers are yours to lose." As a new business owner, Bill also valued the guidance and structure associated with the franchise system. The model for success is available, all you have to do is execute. In October of 2015, he launched his location in central Indiana.
Bill and Bob may have different backgrounds, but they both emphasized the same point: running a franchise is a labor of love. Prior to working with HOODZ, Bill never imagined he could operate with less than 12 hours of sleep per night. He now averages about 4. His day reflects a disciplined and thoughtfully developed routine, and demonstrates his involvement in each aspect of the business. His mornings begin with customer service checks from the previous day's work. He then conducts interviews, coordinates conversations with new customers, visits kitchens, picks up supplies and provides estimates to potential clients. He has three full-time employees and 3 part-time, and the business is quickly expanding.
I asked Bill how reality has differed from his expectations going into the franchising process. He responded that there is more structure and support than he anticipated. He originally assumed he would be operating out on an island, but that has proven far from factual. In addition to monthly training program reunion calls, he consistently communicates with a senior HOODZ representative regarding issues that may arise. Often he'll be referred to other owners who previously confronted and surpassed similar obstacles. This network has been hugely helpful as Bill has grown his business, and other owners have offered suggestions that enabled him to instantly boost revenue.
Bill explained that finding loyal, reliable employees is one of the toughest tests for a business owner. I asked him how he has dealt with this challenge. Bill believes that being a personal, thoughtful manager has enabled him to develop strong relationships with his staff. For example, he consistently finds ways to show appreciation for his employees. He surprised his team with Thanksgiving turkeys for their families and writes personal notes of gratitude on his employees' payslips. He also prioritizes respect in the workplace, and defers to his team's leadership when he accompanies them on service routes. Bill understands that they are in charge of the cleaning process, and doesn't allow his ego to cause conflicts or compromise their effectiveness.

Bill plans to gradually bolt on additional income generators to his business to reach his target of over $1 million in revenue. HOODZ offers numerous ancillary services, such as appliance installation and grease removal, that could conveniently mesh with his existing operation. Bill and his wife have two children, Bill Jr. and Isaiah. Eventually he'd like to pass the business down to them, and maybe even catch up on some well-deserved sleep. For now, though, he'll focus on expanding his branch and delivering quality service to his customers.
Five Ways Starting a Business Can Affect Your Marriage
Starting your own business can change your life in many ways for the better, but potentially also in some ways for the worse. The lack of stability compared to a 9-to-5 job can lead to new stresses, including those on your existing relationships. These are five ways starting a new business can affect your marriage, or really, your entire family.
The Best Franchise Blogs
Out on the web, there's more than enough entertaining and interesting information to make your head spin. While the Internet of a half decade ago was held hostage by professionals and degree-touting experts reporting in the same old monotone voices, passionate topic bloggers soon tore that model apart, and helped open up the medium to anyone with something to say.