Cleaning Industry Analysis 2020 - Cost & Trends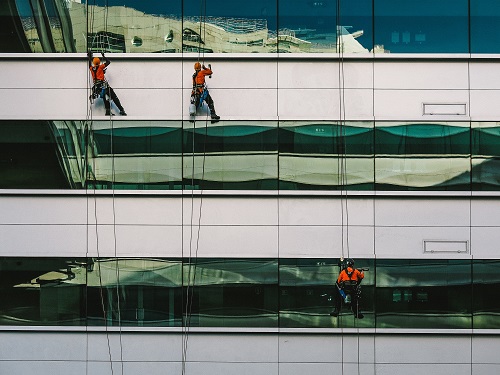 From where I'm sitting I can see at least a dozen things that need a regular cleaning – windows, desks, carpets, trash bins; a kitchenette with a tile floor, appliances, and dishes; a lounge with upholstered furniture, lamps, hardwood floors, etc. And if I was home I can assure you the whole place could use a once over.
Lucky for me there are cleaning businesses aplenty that are looking to scour offices, houses, storefronts, medical facilities, schools, warehouses and more. The cleaning industry is diverse - some businesses focus on specialty cleaning such as windows or floors, others on general residential or commercial cleaning and yet more on laundry and dry cleaning services.
Franchise businesses only account for about 10% of industry revenue – but opportunities still abound for the interested entrepreneur across all sectors.
Industry Description
The cleaning industry can be roughly divided into residential cleaning, commercial janitorial services, specialty cleaning and laundry/dry cleaning services. In 2015 there were approximately 875,000 businesses employing about 3.5 million people.
The industry as a whole is very susceptible to economic downturns and suffered through several rough years during the Great Recession; revenue fell 5.3% in 2008 and another 6.1% in 2009. General cleaning services, and particularly residential services, are deemed an expendable luxury when times are tough.
However the years of economic strength since then have seen the industry bounce back, and in 2015 it generated $51 billion in revenue. This recent upward momentum can be attributed to both unemployment and office vacancy rates declining as well as a pickup in nonresidential construction activity. In other words – people have more money to spend and feel more secure spending it, and there are more offices that need cleaning.
Strong economic activity is forecast for the next 5 years as well, and the Bureau of Labor Statistics is predicting job growth of about 6% from 2014 levels to 2020.
Business Risk
It is estimated that the average cleaning company loses up to 55% of their customer base every year due to poor service. As one business owner states – good work goes unnoticed for years, but a bad job gets you fired immediately.
Competition is fierce – there are many small companies competing for both residential and commercial cleaning contracts. Barriers to entry are low as there is very little expensive equipment needed and little to no training required for employees – so new competitors spring up all the time.
For dry cleaning and some specialty cleaning services, however, expensive equipment actually can be a significant hurdle, including needing commercial or industrial real estate to sell and perform services.
Opportunity
The best franchise opportunities are likely to be in specialty cleaning services that have a greater opportunity to differentiate themselves and are less likely to face local competition (if the proper business is selected of course!). Marketing, reputation and location are all key. Cleaning businesses are most successful in urban or suburban locations with a higher than average level of affluence.
And according to the Worldwide Cleaning Industry Association green cleaning is "a marketplace phenomenon that is being driven by customer demand and the overall trending of the broad marketplace for environmentally preferable products and services." Both home and business owners are increasingly conscious of the chemicals used in their space, and cleaning services that focus on non-toxic supplies and processes have been gaining in popularity. This is particularly true for dry cleaning – a segment of the industry that has struggled over the last decade as clothes are becoming easier to care for.
Check out some of the franchise opportunities below!
Residential Cleaning
Demand for house and apartment-cleaning services is most popular with people of higher than average wealth looking for a little more free time – especially in two-income households. Market research suggests that the ideal target for clients are married couples with college degrees, 45 years old or older.
Maid Pro - The Maids - Molly Maid - Maids Etc. - Two Maids & a Mop
Commercial Cleaning
Often referred to as janitorial services, the commercial cleaning industry thrives when office vacancy rates are declining and nonresidential construction activity is picking up. Office cleaning accounts for approximately 31% of industry revenue, and most of these businesses work the 2nd or 3rd shift when offices are empty.
Anago Cleaning Systems - Pro One Janitorial - Jani-King - Service One
Specialty Cleaning
These types of companies focus on specific types of cleaning – windows, floors, carpets, industrial and more, and they may be a bit more recession resistant if they offer a service not easily performed without special equipment or training.
Steamatic - Restoration & Cleaning
Chem-Dry, Von Schrader - Upholstery & Carpets
The Junkluggers - Junk removal
Window Genie, Window Gang, KEI, Dr. Glass - Windows!
Ultrasonic - Blinds cleaning
GreenLife Carpet Cleaning, Green Mop - Green cleaning!
Laundry and Dry Cleaning
Self-service facilities, wash-and-fold service and dry cleaning businesses are typically family-owned and operated, though there are some bigger chains. There are approximately 33,000 businesses in this segment with revenue of about $11 billion in 2015. Dry cleaning businesses have suffered in recent years as clothing has become easier to care for – but some innovative models and specialty offerings such as green cleaning are showing promising growth.
Lapels, Zoom, To-Your- Door, Door-to-Door, Martinizing - Dry Cleaning
American Laundry, Image First Healthcare Laundry - Laundry
Eco Laundry - Green Laundry
You can see cleaning franchises expanding in your area here.

Senior Care Industry Analysis 2020 - Cost & Trends
Thanks to the baby boomer generation born in the late 1940s and 1950s, the number of American senior citizens is growing. As the boomer population reaches age 65, the senior population is projected to reach 83.7 million – almost double the estimated number in 2012 and approximately twenty percent of the total US population. Roughly 10,000 people will turn 65 every day for the next 20 years! This increasing elderly population has and will necessitate more senior healthcare. In fact, one market research provider estimates that the global home health care sector, just one part of the overall industry, should see revenues grow to $300Bn in 2020 from $180Bn in 2014 - a compound annual growth rate of 8%.
Pet Care Industry Analysis 2020 - Cost & Trends
Well over half of the households in the United States own a pet – almost 80 million homes! Man's best friend might be the most iconic, but our taste in pets is both varied and dynamic. But whether it's a dog, cat, horse, bird, fish, or lizard – pets need to eat. They need to be kept clean, and have a place to sleep. Pets need to be cared for – and with over 300 million pets in the US that makes for a booming business.
Automotive Industry Analysis 2020 - Cost & Trends
Automobiles are complex machines that increasingly include sophisticated computers. They are absolutely essential to the majority of the working population, and are frequently a point of pride for their owners. They require both regular and emergency service, replacement parts, paint, cleaning, stereo system installations and a whole lot more.