Cleaning Industry Analysis 2020 - Cost & Trends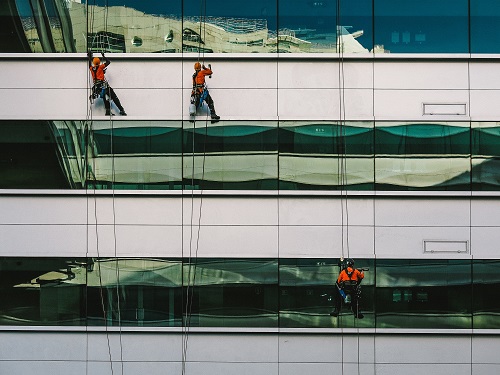 Cleaning is a necessity in every home and office – between dusting windows and taking the trash out, Americans spend approximately six hours per week just cleaning their homes. The importance of having a clean living and working environment is not only important for practical reasons, but studies show that this does have an impact on mental health too. Spaces that are cluttered and messy can cause you to feel distracted – affecting your ability to be productive.
Within the cleaning industry, there are businesses and opportunities aplenty across diverse markets. Whether these are speciality cleaning services for windows and floors, or residential and commercial cleaning, you can have your pick.
Industry Background
The cleaning industry is packed with opportunities – an earlier forecast reflected that the industry will earn over $46 billion dollars in 2020, and grow 10% by 2026. More than 1.7 million people are currently employed in the cleaning industry, yet it is still forecasted to spur a 6% year-on-year growth in new jobs because of the increase in demand. Let's not forget how popular this industry is, especially amongst the single-person households that make up 27% in America.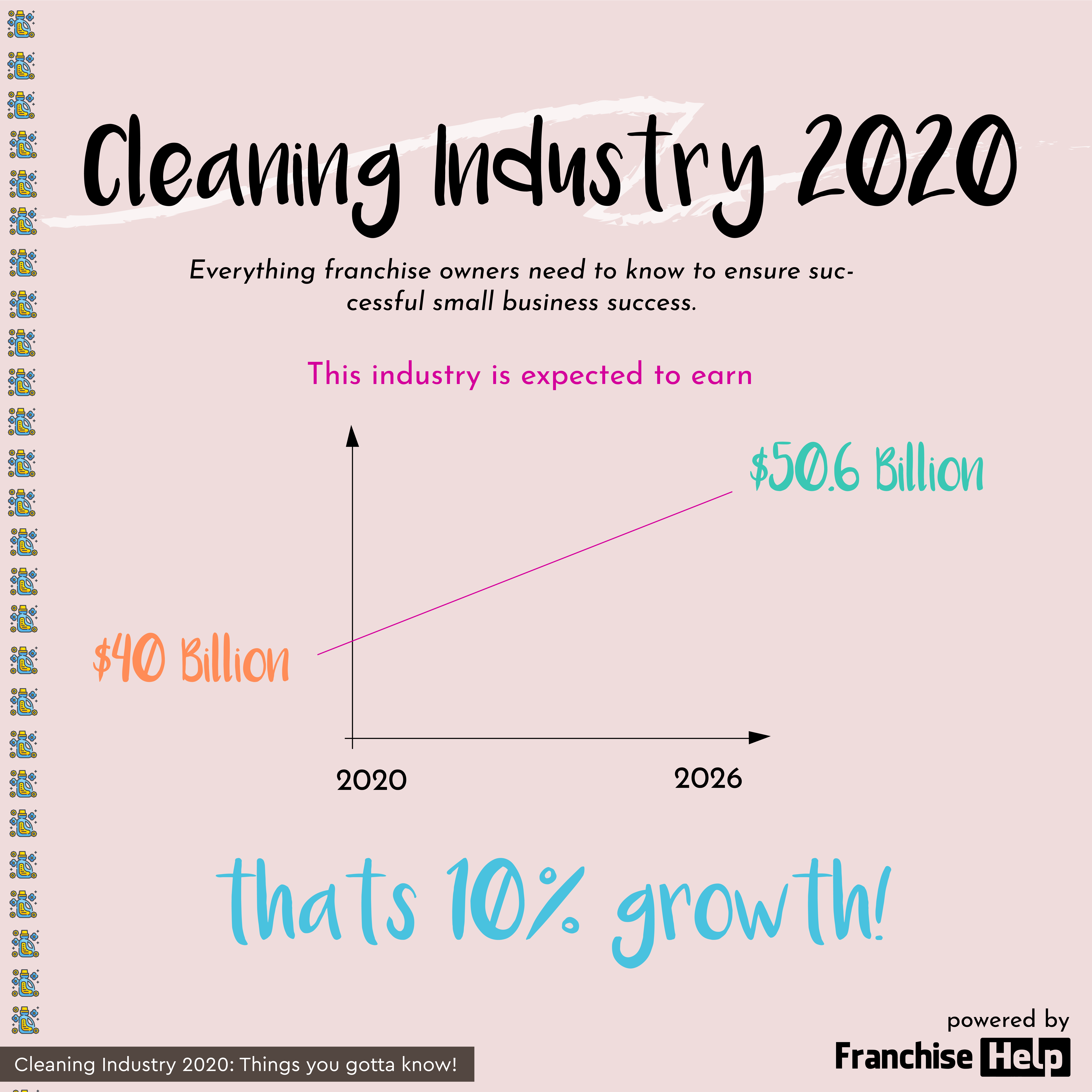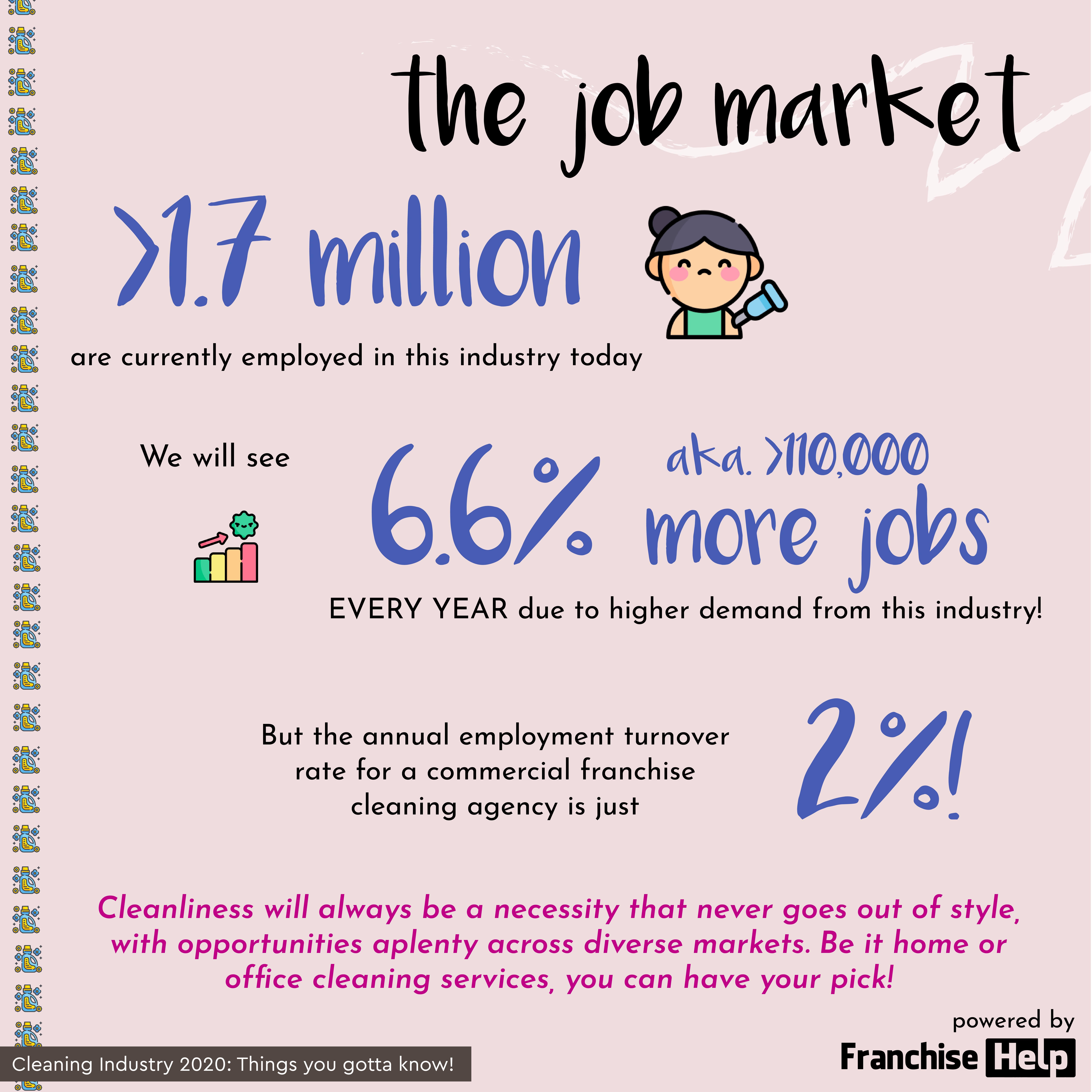 The cleaning industry is also one of the most recession-proof industries out there! In an interview with PuroClean, a restoration and sanitation company, the business highlights that workers in the company are seen as community heroes for the vital role they play - when everything is hunky-dory, and even more so during times of crisis.
Several interviews cite that the average American would still continue keeping their house cleaners and office cleaners employed. In recent years, the general public has moved to have a focus on the importance of a clean living and working space. Cleanliness and decluttering have had a positive impact on one's mental health – helping one's mind to be at ease and therefore to be more productive. Yep, Marie Kondo, I'm looking at you.
While the industry may have had its lows, the cleaning industry has only been growing bigger and better – following the Bureau of Labor Statistics' earlier prediction back in 2014.
What are the risks?
We always talk about how the customer's experience is the most important in a business – particularly for someone engaging in cleaning services. When it comes to sanitation and cleanliness, this is something that cannot be taken lightly – especially because workspaces and homes should be safe places for people to come and mingle together. During the flu season, it is the cleaning businesses that help make sure spaces are sanitised and people can come to work and not fall ill. More than just making sure your cleaning company has a good reputation, there are lives at stake here!
Another key factor to ensure the success of your business is to work with green products. Despite the need to keep clean, we must not forget how important it is to do it in a sustainable fashion by using environmentally-friendly cleaning products and processes. 46% of consumers prefer services that use environmentally friendly products. It is important to keep in mind this green initiative, in order to appeal to consumers' increasingly eco-conscious, and to make sure your employees are well and healthy while doing their job.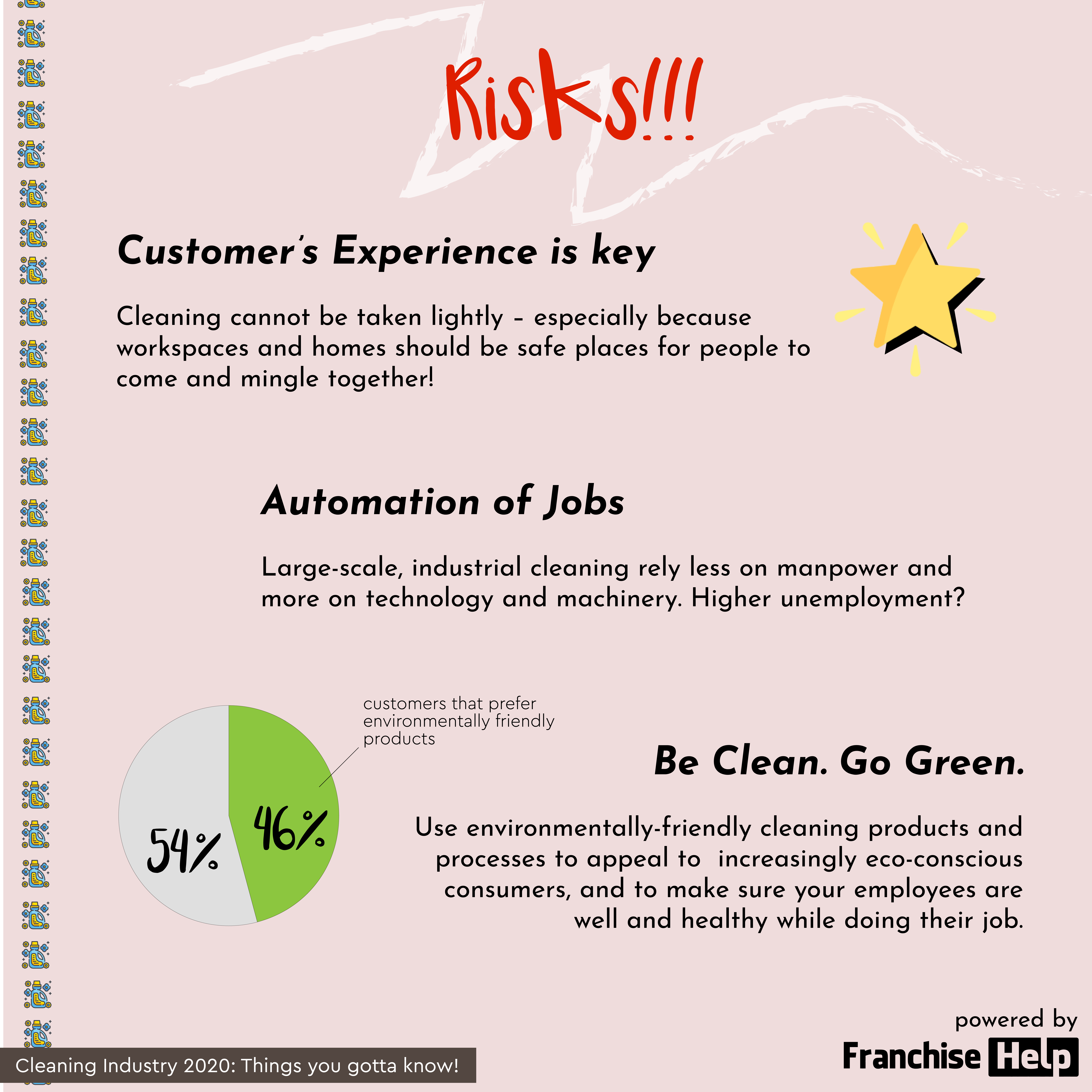 Opportunities in the Cleaning Industry
Cleanliness will always be a necessity that never goes out of style. Additionally, many businesses are looking to expand to more regions precisely because of this demand! Considering what to specialise in? Check out some home cleaning, office cleaning, and speciality cleaning business opportunities.
Residential Cleaning
The biggest driver to propel the residential cleaning industry is simply because of time squeeze. While home cleaning may have appealed to older retirees in the past, businesses have reported that they're starting to see more clients in their 30s-50s engaging home cleaning services. The biggest reason being – that few hours saved allows Americans to spend their weekends with their family, rather than fussing with the chores at home. The Household Cleaners Market is estimated to be worth $40.38 billion by the year 2025. This change in lifestyle is only the beginning for the potential of the home cleaning industry.
Molly Maid - The Maids - Home Cleaning Centers of America
Commercial Cleaning
The importance of creating a conducive and clean working environment is so important to the wellbeing of employees. Based on the Global Cleaning Industry, Commercial Cleaning reigns as the most promising and profitable segment of the industry both in terms of market share and growth. In 2019, Commercial Cleaning companies captured a whopping 55% of the market share!
A new focus for Commercial Cleaning companies would be on-demand cleaning jobs on top of routine cleaning jobs. These pockets of opportunity will definitely come in handy to cash some extra (thousands of) dollars in revenue.
PuroClean - Forte Commercial Cleaning - Office Pride Commercial Cleaning Services
Speciality Cleaning
Let's face it – most of us are clueless how to clean our rugs and carpets at home, or despite our routine effort to vacuum the dirt out of the carpets, it just isn't the same as engaging in cleaning services to give everything a deep cleanse.
Speciality Cleaning is a business model known to be recession-proof – when it comes to windows, flooring, carpets and more, we can't quite do the trick without professional engagement.
Oxi Fresh Carpet Cleaning - Chem-Dry Carpet Cleaning - Green Life Carpet Cleaning
Laundry and Dry Cleaning
Adding on to the list of chores Americans outsource because they don't want to do it – laundry is one that's high on the list. This little business is definitely one that customers come back frequently, especially once it becomes part of their lifestyle.
American Laundry - The Eco Laundry Company - WaveMAX Laundry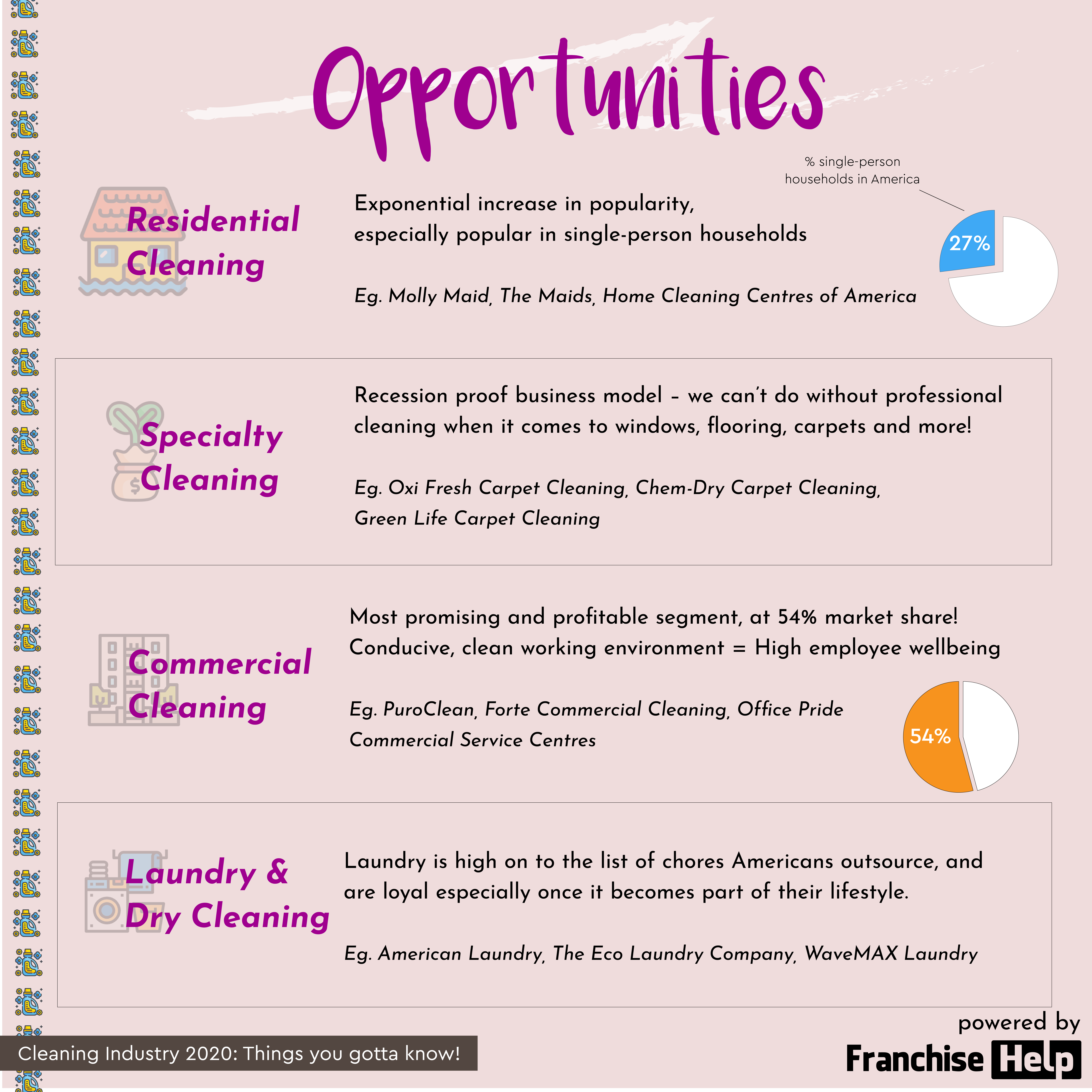 Fast Casual Industry Analysis 2020 - Cost & Trends
When it comes to restaurants, fast casual has been the growth darling of the industry for almost 20 years. While it still accounts for less than 10% of the total market, the number and diversity of fast casual restaurants has been exploding across the country, with an astounding growth of over 500% since 1999!
Fitness Industry Analysis 2020 - Cost & Trends
Gyms used to be big box stores - lots of equipment for cardio and weight training, with personal training available, racquetball maybe, and a pool. And those are still around - but this is an industry that has seen variety become the spice of life. Traditional exercises are being transformed into specialties and new programs are being developed at a breakneck pace.