Retail Industry Analysis 2020 - Cost & Trends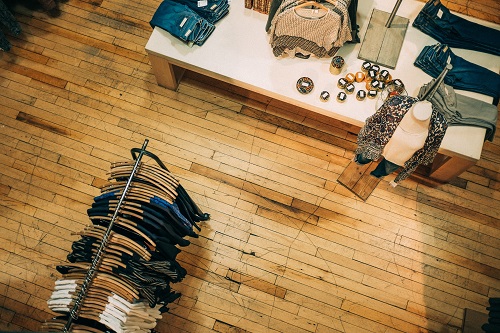 The retail industry is easy to define at the highest level - it is the selling of consumer goods or services to the end buyer. Individual consumers and families - me, you and all our friends. However the enormous size of the industry and the breadth of the types of goods and services that are being sold are a little harder to get our arms around - it's estimated that 2/3rd of the U.S GDP comes from the retail industry!
And while trends may wax and wane and changing economic circumstances will drive profitability, we live in a consumer society and people keep on buying. The interested entrepreneur with a discerning eye can find incredible opportunity among this immense and diverse industry.
What is the Retail Industry?
Consumer goods are any tangible product sold to a buyer. Typically products are divided between durable and nondurable goods.
Durable goods consist of things that last a long time and don't need to be consumed immediately. Examples include electronics, books, appliances, jewelry, and toys.
Nondurable goods typically need to be consumed immediately or within 3 years. Examples include food, medicine, clothing, beer and paper goods.
Consumer services generally support the production and selling of consumer goods – manufacturing, marketing, selling, and post-sale support, for example.
Until relatively recently retail stores have been found primarily on the street - neighborhood stores, warehouse stores, variety stores, and convenience stores, to name a few. Whether in malls or big-box outlets or even vending machines, consumer goods were typically purchased on site with some sort of in-person shopping experience. And to be fair, the retail industry is still dominated by brick-and-mortar stores.
Increasingly, though, e-commerce is gaining market share. According to the US Census Bureau, e-commerce, defined roughly as "shopping online," accounted for over 8% of total retail sales in the 2nd quarter of 2016 - dramatic growth from only 3% in 2006. While Amazon is reported to own 26% of all internet retail sales, most retail operations are at least developing an online presence, and many are going far beyond that. Smart retailers are working to integrate their online and physical shopping experience, making it seamless for consumers to shop however they're most comfortable.
Most retail companies are small businesses – 99% of them employ 50 people or less, and 95% of retailers have just one location. However the big chain retailers account for a lot more of industry sales than that might indicate. Walmart, for example, is not only the largest global retailer, but one of the largest companies in the world. Other major brands dominating segments of the retail market include Costco, Home Depot, Target, CVS, and Lowe's.
The retail industry is seasonal, with nearly 20% of sales in the US happening over the December holiday season. The state of the economy is a major driver – people spend more when their disposable incomes are higher and consumer confidence is up.
Selling goods
Margins for retail businesses are extremely variable. Dollar stores, for example, generally have low margins and aim for high sales, while stores selling luxury items will sell far less product in a given time period, but can expect profit margins to be considerably higher.
Pricing usually falls into one of two types:
"Cost-plus" prices are set by the retail store based on a markup over their cost to purchase inventory.
"Suggested retail" prices are determined by the manufacturer and are often printed on the product. Retailers can discount from the Manufacturer's Suggested Retail Price (MSRP), but not generally mark prices up.
The Numbers
Retail sales were $5.3 trillion in the United States in 2015, a growth of 2% over 2014. In 2009 during the recession sales were $4 trillion.
Excluding sales of automobiles, gas and restaurants, 2015 US retail sales were $1.2 trillion. This narrower selection of the retail industry includes general merchandise, apparel, furniture and specialty items, among other things.
Internet retail sales grew a whopping 23% in 2015 and the numbers are in line to grow at a similar pace in 2016.
Global retail sales were $20.8 trillion in 2015 and are expected to reach $22 trillion in 2016. Some estimates put global sales at $27.7 trillion by 2020.
Retail is the largest private employer in the United States, directly employing 29 million people. Include indirect employment such as software developers, security guards and marketing and that number jumps to 42 million. Generating $1.2 trillion in labor income, the retail industry accounts for an average of 20% of jobs in every state. 40% of the retail workforce is employed at small businesses.
Trends
The increasing strength of online sales is a major driver in the retail industry. Retailers that have only online sales or an efficient physical and online sales process can keep overhead costs low and are poised to continue to gain.
In the brick-and-mortar stores, mobile payment options are becoming increasingly important to younger shoppers, as are in-store mobile devices such as mounted iPads helping consumers find what they're looking for.
Smaller retail stores are now shying away from deep inventories with a broad selection of products and are instead focusing on a narrower spread of specialty items. Since shoppers can access such a wide swath of products online, retailers are finding strength in focus.
Above all, retailers are focusing on a frictionless shopping experience – whether it's ordering online and picking up in store, easy payment options, a top-notch customer service experience or any number of other strategies.
Risks
As with any business, retail has its risks. A few things to keep in mind:
Competition is rough, especially for the small business. Superstores such as Walmart and internet stores such as Amazon offer a breadth of selection and convenience that is tough to beat, and are frequently able to offer products at more compelling prices.
Changing consumer trends can have an adverse effect on retailers. For example, technology spending is currently dominating softer goods like clothing - the new iPhone is often considered a "must have" as compared to a nice-to-have new shirt.
In certain retail segments even the weather can be risky – consider a clothing store that stocks up on winter inventory only to experience a warmer than expected season. They're left with overstocked shelves as spring comes in, and might have no choice but to offload product with deep discounts.
Economic stress or uncertainty is a constant risk in the retail sector. Put simply, people spend less money when they're not feeling confident about their incomes.
Getting into Retail
When analyzing a retail business of course it's important to understand the whole picture, but there are some key performance metrics (KPIs) that you can get started with. Understanding these numbers - and how different opportunities compare to each other - can help you decide whether a particular retail business makes sense for you.
Same store sales – what is the typical brick-and-mortar store for a business type earning? Do these numbers grow year over year? What hurts them?
Sales per square foot – what is the average revenue a brick-and-mortar retail business creates for every square foot of sales space?
Inventory turnover – how many times does inventory sell out in a given time period?
Cost of Goods Sold – what does it cost to purchase the goods sold by a retailer? What do the materials and production process cost?
Of course these are only a baseline to set your research against. If you're interested in digging deeper take a look at some of the opportunities here!
Apricot Lane - Experimac - Earthwise Pet Supply - VaporMaven - UPS Stores - Ace Hardware - 7-Eleven - GNC - Snap-On Tools - Redwing Shoes - Old Navy - Matco Tools
International Franchising Industry Analysis 2020 - Cost & Trends
Franchising outside of the United States presents a different set of opportunities and challenges from franchising domestically, including different franchise structures and distinct cultural and legal frameworks. Careful research and consideration must be taken before considering opening a business in an unfamiliar country.
Fast Casual Industry Analysis 2020 - Cost & Trends
When it comes to restaurants, fast casual has been the growth darling of the industry for almost 20 years. While it still accounts for less than 10% of the total market, the number and diversity of fast casual restaurants has been exploding across the country, with an astounding growth of over 500% since 1999!
Tax Preparation Industry Analysis 2020 - Cost & Trends
Tax preparation is BIG business – there were 300k people employed at 109k firms in 2012 - generating $9 billion in revenue in 2012. The industry grew over 2% from 2010-2015, and is expected to speed up the pace of growth. Revenues of $11 billion are forecast for 2018. Tax preparation is unusual in that it provides a service to assist with a process that legally every American is required to do: submit an income tax return. Because it is required, tax preparation tends to be recession resistant.